Nationally-known pain treatment specialist Dr. William Hurwitz was denied bail pending retrial Wednesday. Hurwitz has been in prison since he was convicted in November 2004 on drug trafficking charges over his prescribing of large quantities of opioid pain relievers to patients, some of whom later admitted abusing and/or selling them. Hurwitz' conviction was thrown out on appeal, and he sought his freedom pending a new trial.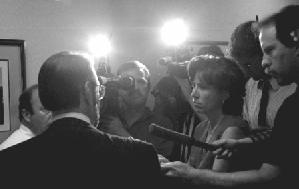 Although Hurwitz had posted a $2 million bond to get out of jail after his arrest and complied with all its conditions, US District Court Judge Leonard Wexler, the same judge whose deficient instructions to the jury resulted in the verdict being thrown out, rejected a motion by Hurwitz' attorneys to free him. Judge Wexler said he was concerned Hurwitz might flee.
"Things have changed with respect to flight," Wexler said as he rejected the motion. "A jury has found him guilty of 50 counts... I think there is a risk of flight."
Hurwitz is probably the most prominent physician to be prosecuted in an ongoing federal crackdown on what authorities call prescription drug abuse and the over-prescribing of drugs such as Oxycontin and other pain relievers. His case mobilized more interest and support in the media and the medical community than any of the dozens of other cases of doctors prosecuted in the federal campaign.
He was convicted after Judge Wexler instructed jurors that they could not consider whether Hurwitz acted "in good faith" when prescribing. Hurwitz and his attorneys argued that the "good faith" defense was crucial to proving his innocence because he believed he was helping his patients by prescribing large amounts of pain relievers.
Prosecutors urged that Hurwitz remain jailed pending trial, saying he had reason to flee. "At least one jury found him guilty 50 times over," said Assistant US Attorney Gene Rossi. "He's about 60 years old, and the sentence that was imposed, 25 years, is essentially a life sentence. That is a strong incentive."
But Hurwitz' attorneys said he had not fled when out on bail before and he had a good chance of winning in the new trial. "He faithfully abided by every condition of his release," said defense attorney Lawrence Robbins.
The Robing Room, a web site that allows criminal justice professionals to rate judges, gives Wexler a mediocre 3.5 out of 10, though the sample size (only nine people, mostly criminal defense lawyers) is limited. Among the comments:
"This is one of the most mean spirited individuals I have ever met... He lacks judicial temperament and is not remotely as smart as he thinks he is, plus he does not listen."

"He is, quite simply, a terrible judge... A yeller, a browbeater, a one-sided unabashed prosecution lover... Doesn't pay much attention to legal citations that are clearly relevant procedurally... Mean and nasty, not very intelligent."

"Doesn't know the law and doesn't care."
Read David Borden's letter to Judge Wexler about evident flaws in the trial, sent prior to the original sentencing of Dr. Hurwitz, here.
Get further information about the Hurwitz case on the web site of the Pain Relief Network.