Locked in a close reelection race, in recent weeks, Georgia Gov. Sonny Perdue (R) has unveiled high-profile proposals to go after two of America's favorite bogeymen -- online sex predators targeting youth and illegal immigrants seeking drivers' licenses -- and this week, he added methamphetamine to his witch's brew of hot-button issues. At a Tuesday news conference surrounded by members of the Georgia Bureau of Investigation (GBI), Perdue announced he would ask legislators for funds to double the number of agents on the GBI's Meth Force.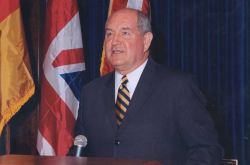 Launched earlier this year in response to reports of increasing methamphetamine use in the state, the GBI Meth Force is currently staffed with 30 agents. According to state statistics, meth cases submitted to the GBI have more than quadrupled from 1,200 in 2000 to 5,200 in 2005.
"Georgia is waging an effective battle against the scourge of methamphetamine with a strong local, state and federal coalition," Perdue said Tuesday during the news conference at the GBI Regional Drug Enforcement Office in Canton in remarks reported by the Gwinnett Daily Post. "An additional 15 agents... will double the state's efforts to combat meth and related crimes like burglaries, assaults and even homicides."
In a talking points memo produced to tout the proposal, the GBI explained that "the agents will be assigned to respond to meth labs, to investigations targeting meth drug trafficking organizations, as undercover agents conducting investigations of meth dealers, and to investigations of meth-related crimes or crimes committed in support of meth financing and operations." This is necessary because "local law enforcement is overrun with street level meth dealers and must devote more resources toward enforcement," the not disinterested GBI argued.
Perdue has developed a record of going after methamphetamine. In 2004, he requested and the legislature passed a provision increasing the penalties for cooking meth around a child. In 2005, he signed legislation that restricted the sale of medications containing pseudoephedrine, which is often used in home meth labs, and this year he budgeted $1 million to jumpstart the GBI Meth Force and another $1 million for treatment for about 200 meth users. The doubling of the force would take another $1 million.
But Perdue's Democratic opponent in next month's election, Lt. Gov. Mark Taylor, accused the governor of playing politics. "For the last month, Sonny Perdue has staged issue announcements to set up the next broadcast of a new political ad, and here he goes again," Taylor spokesman Rick Dent wrote in an e-mail to the Daily Post. "This is not governing, it's staging. It's all hat and no cattle. Voters deserve better."