A tawdry tale out of Tulsa, a New York cop gets off easy, and the Boston Police aren't sure where all the dope went. Just another week of drug prohibition-related police corruption. Let's get to it: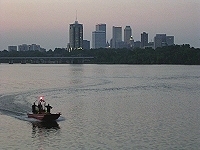 In Tulsa, Oklahoma, a federal civil rights lawsuit filed by the husband of an exotic dancer is shining a light on some sordid business involving a pair of Tulsa Police Department officers. The lawsuit was filed by Shannon Coyle, the husband of dancer Crystal Garr. Coyle was arrested on drug charges last year by Officer Travis Ludwig, after Coyle filed an internal affairs complaint against Ludwig because Ludwig was sleeping with Garr. Coyle was arrested first on marijuana possession charges, then again on methamphetamine and paraphernalia charges in raids led by Ludwig. When Coyle found out Ludwig was sleeping with his wife, he text-messaged him, warning him to stay away. Ludwig then took those messages to a deputy prosecutor who okayed another arrest for Coyle, this time for intimidating a witness -- Ludwig. All the charges were dropped once officials became aware of the affair, and Ludwig has been disciplined by the department, but he still faces Coyle's lawsuit. So does Officer Israel Rodriguez, whom Coyle also accuses of sleeping with his wife. Ludwig and Garr currently live together, although she remains married to Coyle, the father of her four children. Oh, by the way, the deputy prosecutor who okayed Coyle's third arrest? She had also been sleeping with the busy Ludwig. Read all about this Oklahoma law enforcement Peyton Place in the
Tulsa World
, which has in-depth coverage and a handy chart with all the players.
In New York City, a former NYPD narcotics detective got off easy last week when he was sentenced for robbing more than $740,000 from drug dealers over an eight-year period, Newsday reported. Former detective Julio Vasquez, 46, was among five NYPD cops arrested in the scheme, which unraveled when federal agents staking out a drug suspect saw him robbed by Vasquez and fellow cop Thomas Rachko. All of the other cops have pleaded guilty, too. Vasquez got a sweet six-year sentence from federal Judge Carol Amon on October 5 after prosecutors filed a letter saying he had cooperated with investigators. Under the federal sentencing guidelines, he would have faced between 17 and 22 years.
In Boston, an audit of the Boston Police drug depository has revealed that the department cannot account for some of the drugs seized over the years, the Boston Globe reported Sunday. Police Commissioner Albert Goslin told the Globe it was too early to suggest corruption and that the drugs -- seized as evidence over the years -- may just be lost. As the audit continues, three officers are trying to track down the drug evidence in some 190,000 cases, some dating back more than 20 years.