At least five California different medical marijuana dispensaries have been raided in the last ten days, bringing the total so far this year to more than 30, according to medical marijuana supporters. But that means nearly 200 existing dispensaries have not been raided, suggesting that what is occurring is more like a low-level battle of attrition than an all-out assault by the US Drug Enforcement Administration (DEA) and its allies among recalcitrant state and local law enforcement and elected officials.
Here is the latest casualty list: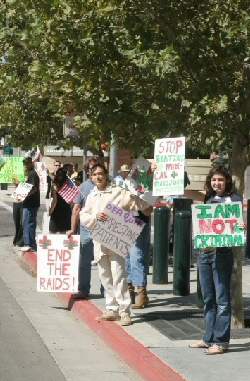 Last Wednesday in Modesto, one day after the city of Modesto voted to repeal a municipal provision exempting nonprofits from its ordinance banning dispensaries, DEA agents raided the nonprofit California Healthcare Collective, one of only two remaining dispensaries in the area. A DEA spokesperson told Drug War Chronicle this week the Modesto Police Department began investigating the dispensary, then handed the case over to the feds. Four people were arrested on federal marijuana distribution charges.
The following day, DEA and local law enforcement agents raided the North Valley Discount Caregivers dispensary in Grenada Hills and seized all the medicinal cannabis at the site. The two operators were arrested on state marijuana charges.
That same day, Stanislaus County Sheriff's deputies raided the 2816 Collective in a rural area near Modesto using a state search warrant. Police seized about two pounds of dried marijuana and patient files. The collective had closed the day before because of the Modesto raid. With both California Healthcare in Modesto and the 2816 Collective gone, the entire region is now destitute of dispensaries, leaving hundreds of patients in the lurch.
On Tuesday, the DEA raided at least eight locations in the San Francisco Bay area, seizing more than 12,000 plants, $125,000 cash, and a fancy sports car. Despite somewhat hysterical initial reports in the local media, all the raids were connected with the New Remedies dispensary in San Francisco, which involved the same people involved in Compassionate Caregivers, which was raided by the DEA in Los Angeles in May 2005, when the feds found more than $300,000 in cash, sparking the investigation that culminated in the Monday raids.
On Wednesday, DEA and local law enforcement officers raided the Palm Springs Caregivers dispensary in Riverside County, seizing medicinal cannabis, but not making any arrests at the time. The raid came one day after the Riverside County Board of Supervisors voted to ban dispensaries in unincorporated county areas, which does not include Palm Springs, and one month after Riverside County District Attorney Grover Trask issued a white paper arguing that dispensaries are illegal under both state and federal law.
The raids triggered the Emergency Response Project of the medical marijuana defense group Americans for Safe Access, which brought out protestors last Friday at DEA headquarters in Los Angeles, as well as Modesto, Oakland, Sacramento, San Diego, San Francisco and Santa Ana. Demonstrators also greeted the Tuesday raids in San Francisco, and more actions are set for today.
"With our emergency response program, every time there is a federal raid -- and we can usually find that out in a matter of hours -- we activate our local response, as we did in San Francisco this week," said ASA's Caren Woodson. "But now, we're activating the national emergency response for Friday. It's a call-in day. We are urging everyone to call in to DEA administrator Karen Tandy and let her know how they feel about these raids. Karen Tandy has a lot of discretion, and she needs to exercise it."
While ASA is leading the immediate battle, it is not alone among movement groups in trying to figure out just what is going on. According to the DEA, it's nothing special, just enforcing the federal marijuana laws. "The two cases in which our office was involved, Modesto last week and here in the Bay area this week, were both the culmination of long-term investigations," said San Francisco DEA public information officer Casey McEnry. "In Modesto, the Modesto police began investigating and then passed it on to us, and with New Remedies, we had served warrants on them as Compassionate Caregivers in LA in May 2005, and we learned in December 2005 that they had changed their name and set up shop in Oakland," she told Drug War Chronicle.
"We can't read the DEA's mind, but there is no sign of an all-out offensive," said Bruce Mirken, director of communications for the Marijuana Policy Project (MPP). "These guys in San Francisco were already in the crosshairs -- they were victims of their own success -- but there are certainly plenty of other places operating openly. If the DEA wanted to, it could go after them with little effort, but it seems like a decision has been made not to do that."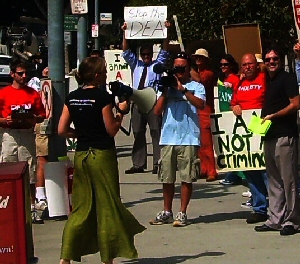 The DEA's McEnry did not respond directly to questions about whether the agency had taken a political decision to not aggressively crack down on the state's roughly 200 dispensaries, but she did issue a warning. "The magic plant count number is zero, the distribution number is zero if you want to be safe from us possibly knocking at your door," she said. "Anyone who cultivates or distributes marijuana is at risk."
While that may be bluster given the agency's limited resources, it is worrisome for dispensaries and their supporters. "These state-certified legal cannabis dispensaries look to the DEA like drug distribution havens," said Woodson. "If a dispensary is serving 150 people a day, the operator looks like a drug kingpin to them. They're like sitting ducks, they're listed in the phone book. And now some of these people are facing very severe sentences, some of up to life in prison.
It isn't just the DEA. "We have sporadic local police involvement in raids, mostly in counties where local government is not supportive, like Modesto or Riverside County, which is where Palm Springs is," said Mirken. "That tells us it is really important that local governments understand Proposition 215 and hear from their constituents that access to medicinal cannabis is important."
"They're picking locations where local decision-makers don't have a friendly attitude," said ASA's Woodson.
"These raids are really a drop in the bucket when you have 200 dispensaries out there," said Dale Gieringer, head of California NORML, "but we don't want to see them spread. I fear this is going to be a battlefield for awhile here until we come up with a regime that allows for better systems of dispensaries and production. The lack of a legal production system causes a lot of problems, and everybody in the dispensary business is operating in the black or grey market and vulnerable to legal uncertainties."
While medical marijuana dispensaries remain numerous in Los Angeles and the Bay area, the raids are having a very real impact on availability in some areas of the state. "In San Diego, a few months ago there were a dozen dispensaries in operation, but after the raids, they're gone and access to medical cannabis is largely gone," said Woodson. "There are only a handful of delivery services now, and they can't handle the demand. It's a similar situation in Modesto -- there aren't any dispensaries in the area now."
"I think it's going to continue for the short term, until something happens politically to change the dynamic," said Mirken. "That might not be until there is regime change in Washington, and maybe not even then, depending on how smart the Democrats are. It doesn't seem like anything is going to change drastically in California in the near term. Most people in the state government some local governments at least pay lip service to supporting Proposition 215, but we haven't seen much strong action from state officials with the clout to try to stop the raids. I really don't see anything moving on the state level," he said.
ASA's Woodson wasn't quite ready to give up on state government. "Here in California, we need to see more state officials standing up and denouncing these raids," she said. "The state legislature as a whole needs to take this issue on and create guidelines or craft prohibitions directing state and local law enforcement not to participate in these medical marijuana raids. The legislature is not doing its job if it is not properly protecting patients."
Another thing the legislature could do is restate and expand on its support for Proposition 215. "They should re-codify it and take a stand against the federal raids," said Woodson. "And they should demand our federal delegation pay more attention to this issue. All Diane Feinstein can talk about is meth; she and Barbara Boxer haven't raised a finger to help on medical marijuana. We would also like to see more law enforcement officers trained on the medical cannabis issue."
"California will do nothing statewide until federal law changes," predicted Gieringer. "I see this pattern of sporadic raids continuing until there is a change in the federal law. Two or three years ago, I would have said we were in mortal danger, but in fact, we've had nothing but an increase in the number of dispensaries even after we lost two Supreme Court decisions. Somehow I have a hard time believing that this is going to be reversed, especially given what happened in LA. Two years ago, there weren't any clubs in LA, now there are a hundred. It looks to me like the nation's second largest city is firmly infected with dispensaries. When it was just the Bay area, I was concerned the feds could shut it down, but they blew their chance. Now all they can do is bust someone every once in awhile and try to tarnish the image of the dispensaries, but they are here to stay."