The US Supreme Court Tuesday heard oral arguments in two consolidated cases that question whether immigrants who are legal US residents should face mandatory deportation for small-time offenses such as drug possession. Thousands of immigrants face such wrenching punishment, and according to the National Network for Immigrant and Refugee Rights, more than a million and a half people have been deported since the introduction of mandatory deportation for "aggravated felonies" under the 1996 Immigration and Nationality Act that is being challenged in these cases.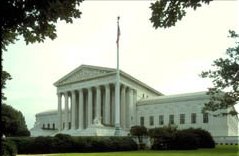 That law expanded the definition of "aggravated felonies" -- crimes for which deportation is mandatory -- beyond serious violent crimes, which had been the previous standard. The cases before the Supreme Court this week revolve around whether offenses that are considered misdemeanors under the federal Controlled Substances Act but are considered felonies under state law in the states where people were convicted can qualify as "aggravated felonies" under the immigration law.
Many of those deported under the immigration law were in fact found guilty of serious crimes, but many others were not. In one case covered by the Drug War Chronicle, Joao Herbert, who was adopted by American parents from a Brazilian orphanage as a young child but who never applied for US citizenship, was arrested as a teenager for selling a small bag of marijuana. He was sentenced to probation, but federal authorities sought successfully to deport him under the 1996 law. Sent to a land he never knew, he scraped by for a few years as an English teacher before being gunned down by Brazilian police in 2004.
In the cases before the court Tuesday, Lopez v. Gonzales and Toledo-Flores v. US, the offenses for which the US seeks to deport immigrants are even more trivial than in Herbert's case. Jose Antonio Lopez was a Sioux Falls, SD, grocery store and taco stand owner who legally emigrated from Mexico in 1985. The married father of two children, who are US citizens, pleaded guilty to telling someone how to obtain cocaine. Such an offense is a misdemeanor under federal law, but was a felony under South Dakota law. Federal immigration officials classified his offense as an "aggravated felony" under the immigration law and deported him to Mexico.
Reymundo Toledo-Flores was arrested for cocaine possession in Texas, where it is a misdemeanor, but when he was caught trying to reenter the country he was hit with a two-year prison sentence because immigration authorities considered his Texas bust an "aggravated felony" under the immigration law. He is appealing the sentence.
"The problem here is that state law and federal law are at odds in determining the gravity of the offense," Justice David Souter said during oral arguments Tuesday. "Isn't that very strange that Congress would have wanted a reading of the statute that would turn its definition of a misdemeanor crime into an aggravated felony for purposes of the immigration laws?" he asked.
Bush administration attorneys argued that immigration officials correctly classified both cases. "The statutory definition of 'aggravated felony' encompasses large categories of criminal conduct under state law, without requiring a federal-law parallel," the US solicitor general wrote in a brief to the court.
Deputy Solicitor General Edwin Kneedler told the court Tuesday that the immigration law "looks to state law." If a drug offense is a felony under state law, it is a deportable felony under the federal law, he argued.
But three former Immigration and Naturalization Service general counsel disagreed in a friend of the court brief they submitted. "There is no clear indication that Congress intended the definition of aggravated felony to apply to drug offenses that are... misdemeanors under the federal law," they wrote.
Chief Justice John Roberts was thinking along similar lines. "It must give you pause," he told Kneedler, "that your analysis of a term 'drug-trafficking' offense... leads to the conclusion that simple possession equates with drug trafficking."
"Immigrants shouldn't be kicked out of the country for doing what the president of the United States did," said Bill Piper, director of national affairs for the Drug Policy Alliance. "It is clear that the type of drug offenses we are talking about here are not the type of offenses Congress intended when it passed that law," he told Drug War Chronicle. "It also seems like this raises equal protection issues because it looks like whether you get deported or not depends on which state you were convicted in. In those states where drug possession is a felony, you get kicked out; in those where it isn't, you don't."
Immigrant rights and civil liberties groups joined in calling on the court to reject the federal government's broad interpretation of the law, and even the Center for Immigration Studies, which generally hews to a hard line on immigration enforcement, was not overly enthusiastic about deporting small-time drug offenders. "If the state legislature has decided this is a serious crime and someone who commits it will get deported, it's not like that person didn't know it was illegal," said Dr. Steven Camarota, director of research for the group. "I don't see a problem with making those people go. In some cases, however, people plead guilty to a crime not realizing they would be subject to deportation, and that raises a fairness issue," he told Drug War Chronicle. "The whole criminal justice system is supposed to temper justice with mercy, but with immigration we've created so many exceptions and waivers that sometimes it's good to come down hard."
For Camarota, the whole debate over deporting immigrants for small-time drug offenses is "small potatoes" compared to the real immigration issues facing the country. "We are talking about a few thousand people when there are 37 million immigrants in the country," he pointed out. "There is nothing wrong with the way in which the government is approaching this, but it does seem like an awful lot of debate over something so small. We should be putting resources into general enforcement of immigration laws."
"The 1996 law is really destructive," said Arnaldo Garcia of the National Network for Immigrant and Refugee Rights. "On any given week, you have 20,000 or so legal permanent residents who committed small offenses sitting in jail under deportation proceedings. That includes things like a 20-year-old who had sex with his 17-year-old girlfriend, and it includes things like people getting arrested with small amounts of marijuana on them," he told the Chronicle. "The federal government is trying to institutionalize a double standard. Legal residents have equal rights under our court system, but after they have completed their sentences, they are then subjected to an unfair punishment -- banishment for life. This is a big crack in the foundation of equal treatment under the law."
There is little legal permanent residents can do, said Garcia. "What you can do is make sure you know the law," he said. "If you get arrested, you need to get the advice of an immigration attorney to know the consequences of the charge and whether it's a deportable offense. Some judges will work with you -- doing things like sentencing you to 364 days instead of 366, the difference between a misdemeanor and a felony -- but the INS just wants to deport your ass. I've seen people going in for their citizenship tests and immigration is waiting for them because they got busted as a teenager."
The ultimate protection from deportation under the immigration law is to become a US citizen. "That's easier said than done," said Garcia. "There is a huge backlog. I'm working with one family that submitted a reunification petition in 1994. Their case is just coming up now."