US Supreme Court Justice Anthony Kennedy told a gathering of judges in Southern California Sunday US sentencing practices were harsh and troubling. US sentences are eight times longer than those in Europe, Kennedy said, adding that the public needed to be aware of the length of sentences in the US.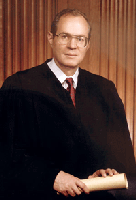 "If an 18-year-old is growing marijuana for a friend, that's distribution," said Kennedy in
remarks reported by the Orange County Register
. "If he has his father's .22 rifle, that's a firearm. That will get 15 years. Did you know what 15 years was when you were 18? I didn't when I was 18."
Kennedy, a Sacramento native who was recently designated Supreme Court justice for the 9th US Circuit Court of Appeals, also criticized state sentencing practices. He noted pointedly that California alone has more than 200,000 people behind bars.
Kennedy also complained that the people at whom the harsh sentences are aimed are largely unaware of them until they fall into the hands of the criminal justice system. "If sentences are to be a deterrent, what is the good of them if nobody knows how long they are?" he said.