Phillip S. Smith, Writer/Editor, Drug War Chronicle
The grand old man of American drug reform is at it again. Retired American University professor and head of the International Antiprohibitionist League Arnold Trebach returns to the fray with "Fatal Distraction," and a fine addition to the literature it is. While the book is a reworking of his contribution to the 1993 pro-and-con "Legalize It? Debating American Drug Policy" (with James Inciardi), Trebach has greatly expanded that material and includes much that is new. In doing so, he has created what is in essence a primer for ending drug prohibition.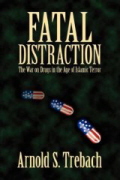 And make no mistake about it, legalization is precisely what Trebach wants. Although he complains that he was unfairly labeled a legalizer earlier in his career, Trebach now embraces the label. In "Fatal Distraction," he calls for the repeal of federal drug laws, especially the 1970 Comprehensive Drug Abuse Prevention and Control Act, and the dismantling of the DEA. The federal government would get out of the drug prohibition racket and, as was the case with alcohol after Prohibition, leave it to the states to set their own drug laws, Trebach writes.
Drug reform groups that refuse to embrace ending prohibition, who are afraid to say the word "legalization," are part of the problem, Trebach declares. For reformers today to avoid calling directly for full legalization is to Trebach analogous to "the Abolitionist movement of the 1800s having worked not to free the slaves, but to provide better housing and health care for them." Like slavery, Trebach notes, drug prohibition is "a true evil institution, one that needs destroying -- not improving."
Trebach spends about the first third of "Fatal Distraction" demonstrating just how and how horribly drug prohibition has failed, and as he does so, he takes the reader on a guided tour of the drug war, from the bloody streets of our inner cities to our overflowing prisons, from the damage done to the freedoms enshrined in our Constitution to the inherently corrupting asset forfeiture laws, from the crisis in pain relief to the mini-concentration camps masquerading as drug treatment centers for our kids. To all of this, Trebach brings decades of experience, observation, and thoughtful pondering, and he builds a devastating case against prohibition.
Much of Trebach's argument and many of his examples will be familiar to serious students of drugs and drug policy, but Trebach's comprehensive vision helps bring the convoluted mass of intersecting issues around drug policy into clear focus. It also helps that Trebach presents his material in easily digested, bite-sized chunks of three or four or five pages.
But, as "Fatal Distraction's" subtitle -- "The War on Drugs in the Age of Islamic Terror" -- suggests, Trebach has more on his mind that simply ending drug prohibition. Obviously deeply affected by the September 2001 attacks on New York and Washington, Trebach argues that the war on Islamic fundamentalist violence is so critical to America's future that continuing to divert energy and resources into the war on drugs could threaten our very existence.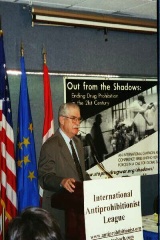 The ranks of drug reformers will doubtless produce diverse reactions to this contention. Trebach is undoubtedly correct that the war on drugs is a diversion and distraction from the war on terror. But one could also argue that it is a diversion and distraction from the need for social justice or the fight against global warming. Trebach points out that skills honed by the many agents currently employed in drug enforcement could be effectively applied to investigating and rooting out terrorist cells instead. True, but also against other kinds of violent crime. Is the concept of "war" more apt when applied to a tactic (terror) or an ideology (Islamic fundamentalism) than to a war on inert substances (drugs)? This reviewer is himself among the ranks of the unconvinced on those points; and as Trebach has so artfully shown, drug prohibition is a failure on its own terms and does not require juxtaposition with a more recent threat to be recognizable as such.
Nevertheless, while the theme of fighting Islamic terrorism appears sporadically throughout "Fatal Distraction," most of that material appears within a handful of chapters near the end of the book. Perhaps its presence will get some new people to think about the drug laws who haven't done so before. The remainder of "Fatal Distraction" -- the distillation of a life's work in the trenches of drug law reform -- makes this a book grizzled reformers and bright-eyed newcomers to the cause alike will want to read and absorb.