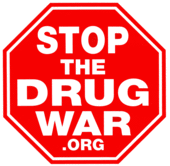 Even though we have not publicly announced the existence of the Stop the Drug War (DRCNet) MySpace account (until today, of course), somehow 1,800 people have found it and signed up as "friends."
If you're a MySpace enthusiast, we hope you'll become a DRCNet MySpace friend too so your own friends and friends of theirs can find out about us that way and become part of the cause.
Visit http://www.myspace.com/drcnet to link DRCNet on MySpace into your MySpace!