Javier Arellano-Felix, a major player in one of Mexico's powerful and violent drug trafficking organizations, was arrested by the US Coast Guard in international waters off the coast of Mexico's Baja California. But even as federal law enforcement officials risked serious injury from all the back-patting going on at their celebratory press conference Thursday, they acknowledged that his arrest would amount to little.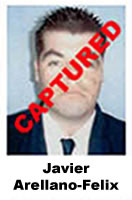 The Arellano-Felix organization controls the Tijuana drug trade franchise, or "plaza" as it's called in Mexican slang. It grew in the 1980s into a major cocaine trafficking group, but was dealt a harsh blow in 2002 when one older Arellano-Felix brother was killed and another arrested. In the past two years, since the most recent disruptions of the Mexican cartel structure, the Arellano-Felix organization has been a key player in the bloody vendettas among traffickers that have left more than 1,500 people dead.
"El Tigrillo" ("The Little Tiger"), as he is known in Mexico, was one of several organization members indicted by a federal grand jury in San Diego in 2003 on charges they conspired to smuggle tons of cocaine into the US. He faces life in prison here.
"In the world of drug law enforcement, it doesn't get any better," John Fernandes, special agent in charge of the Drug Enforcement Administration's San Diego office, sat a mobbed news conference. "This is huge. The opportunity to capture a drug lord the caliber of Javier Arellano Felix is a unique event." His capture marks "the end of two decades of the most... powerful and violent drug-trafficking organization," he added.
And what that means in Mexico is a new round of violence as competing trafficking organizations fight to take advantage of the opening. Fernandes acknowledged as much, saying that violent jockeying for power is the likely result of Arellano's arrest.
Nor do authorities expect his arrest to make any significant difference. "In drug trafficking we're not naive enough to think that drug trafficking is going to stop," said FBI Daniel R. Dzwilewski, special agent in charge of the FBI's local office.
Still, it was a nice photo-op.