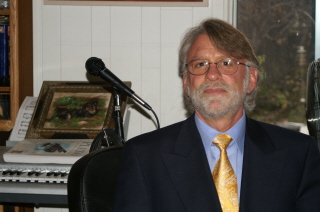 Personal Information
User Bio

Professional Involvement: My practice is limited to criminal matters. This includes everything from traffic to serious felonies. Admitted to the Colorado and 10th Circuit Federal Bar, 1976, (registration number 7656), and recently admitted to practice before the United States Supreme Court. I have practiced continuously since then (Martindale-Hubbell AV (highest) rated, listed in year 2000,2001, 2002, 2003, 2004, 2005, 2006, and 2007 Register of Preeminent Attorneys of Martindale-Hubbell). The areas in which I have the most significant experience include adult and juvenile sex allegations, violence, drug cases, (Life Member of the NORML legal committee), alcohol cases, all types of traffic problems including vehicular homicide and vehicular assault, weapons charges, and domestic violence issues. This list is NOT exhaustive. I am a former Judge for the Lafayette Municipal Court. (I resigned when the City of Lafayette increased the possible penalty for cannabis possession from a $100 fine to a $1000 fine and a year in jail. Colorado state law maximum is a $100 fine).

I am the immediate past Chair of the Boulder Criminal Defense Bar (having served in that position for eight years) a chapter of the Colorado Criminal Defense Bar, (Life Member) and have served for two terms on the Board of Directors, Colorado Criminal Defense Bar. I served on the Colorado Criminal Defense Bar Technology Committee. I am a twice past chair of the Juvenile Law Committee, Boulder Bar Assoc. I took a leave of absence from my regular column in THE RAP SHEET (The Colorado Criminal Defense Bar magazine), so that I could co-edit the criminal law articles for the Coloradbo Bar Association monthly magazine, The Colorado Lawyer. (I "retired" from that position in late 2006 to permit more time to write articles). I was elected to the Executive Council of the Coloardo Bar Association Criminal Law Committee, and served for four years, including one as vice chair, and two as Chair of that council. I have been published in the Colorado Lawyer several times. (Sorry for all of the "I"s. It does make it easier to tell you who I am professionally). I served five years on the Board of Directors of the Boulder County Bar Association, and served on the Board of Directors for the Colorado Municipal Judges Assoc. I teach numerous continuing legal education courses to other lawyers throughout the state and nationally, as well as having been an occasional guest lecturer at New Mexico Highlands University, and at the the Boulder County Department of Social Services, sexual abuse team. I am a guest lecturer at the Denver University School of Law. I have acted as a Special County Attorney for Boulder County numerous times when the regular staff of attorneys was unavailable for periodic "retreats." I am a mentor to newer attorneys throughout the State Of Colorado, (spending about 6 hours a week advising other criminal defense attorneys) and retired as a director after many years service on the Board of Directors for the Colorado Center for Modern Psychoanalytic Studies. I have been accepted as a lifetime member of the National Register of Who's Who, and Who's Who in American Law has had me listed. I was privileged to be named Volunteer of the Year by Boulder Action for Soviet Jewry (1995). I also served on the V.A.L.E. board (Victim and Law Enforcement) for its first three years, including a year as president. I served as a presiding judge for the 16th Annual Colorado Mock Trial Competition. I am an overachiever, and Fox TV has had me as an attorney on one of their court TV show, Power of Attorney. I had four episodes aired during 2001. The show was cancelled as a result of the 9/11 attacks. I have been an advisor to ABC TV and Radio News

Education: Juris Doctor, Rutgers University Law School, 1975. Bachelor of General Studies, (majors in physics, math, psychology, English, and accounting), cum laude, from Ohio University, 1972.

Personal: I have been married for over 21 years, and have a very wide range of interests. I perceive myself as a "Renaissance man" with skills in the fine arts, music, sciences, literature, and also with "hands on" types of work. In my home shop, I work with wood, metal, and plastic, with projects ranging from handling knives, to turning accessories for spinning wheels, to building table top battle robots (1st place in 1993, 3rd place in 1994 Critter Crunch, "Nifty Critter" ribbon, 1996). A watercolor of mine took a third place ribbon in the 1995 Lafayette Art Show. Lately, I have re-focused on photography, enjoying the new digital medium. I was one of the creators of the Colorado Criminal Defense Bar website, at http://www.ccdb.org and was webmaster at http://www.crimelynx.com (until the student surpassed the teacher and took over). I have played guitar for 42 years, and I think I'm finally getting the hang of it.
History
Member for

16 years 7 weeks
Stories by Leonard Frieling
---
by Leonard Frieling, February 15, 2007, 03:54pm
I am the Lafayette ex-associate judge who resigned on Monday to protest the attempts by the City Council, inspired by the "main" judge, to increase the penalty for petty offense possession (under 1 oz
---
by Leonard Frieling, February 15, 2007, 03:46pm
Following my resignation as a Lafayette Municipal Court Associate Judge in protest of an unnecessary and drastic proposal to increase marijuana possession penalties in the City of Lafayette, some misi