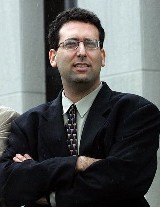 History
Member for

15 years 14 weeks

Blog
Stories by borden
---
by borden, June 28, 2007, 11:29pm, (Issue #492)
The relative harmlessness of drugs like marijuana is a good reason to want to legalize them. But the harmfulness of other drugs is a reason to want to legalize them too.
---
by borden, June 27, 2007, 09:50pm, (Issue #492)
Each conference of the Drug Policy Alliance (formerly the Drug Policy Foundation) includes a bit of ceremony, with the presentation of an annual round of awards. DPA is seeking nominations for the next round, which will take place in New Orleans this December.
---
by borden, June 27, 2007, 09:05pm