The reflexive response of state legislators to respond to new, uncontrolled substances by banning them continues unabated this year as bills to proscribe synthetic marijuana have been filed in Nebraska and Indiana. Another synthetic pot ban bill is pending in Connecticut, and Washington state bureaucrats acted at year's end to ban the substances there.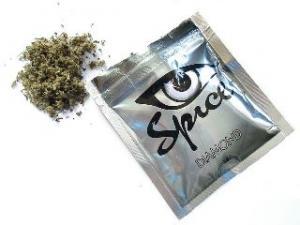 Sold under names like K2 and Spice, the products contain synthetic cannabinoids that produce psychoactive effects roughly similar to marijuana. While about a dozen states and numerous municipalities moved against synthetic cannabinoids last year, the substances remained unregulated at the federal level until
the DEA imposed an emergency ban that took effect on Christmas Eve
.
But the federal ban has not deterred state legislators from acting since then. In Nebraska, Sen. Beau McCoy has introduced
LB 19
, which would prohibit the possession or sale of synthetic cannabinoids. That bill has been referred to the Judiciary Committee, where a hearing has been set for January 19.
In Indiana, state Sen. Joe Zakas (R-Granger) introduced
SB 152
, which bans synthetic cannabinoids and punishes use or distribution with the same penalties in place for marijuana. That legislation passed the Senate Corrections Committee unanimously on Tuesday.
In Connecticut, no bill has been formally introduced yet, but several legislators, parents, and members of the anti-drug abuse group
Connecticut Prevention Network
met Monday to call for legislation there. Rep. Patricia Wilditz (D-Guilford) said the substances are becoming increasingly popular among young people and that the public needed to be warned of their dangers.
In Washington state, meanwhile, the compounds were
banned by action of the State Board of Pharmacy
on December 30. The ban there came three weeks after a Seattle man struck three pedestrians with his vehicle and later claimed to have been under their influence.
"The chemicals are very potent synthetic cannabinoids and can cause harm when used, generally by smoking," the Board of Pharmacy said. "These are effects that can affect behavior, judgments and health."
Reported
adverse effects
of synthetic cannabinoids include panic attacks, anxiety, agitation, rapid heartbeat, vomiting, hallucinations, tremors, and seizures. No fatal overdoses have been reported.