Three DEA agents and seven US soldiers were killed Monday when their helicopter crashed as they were returning from a firefight with suspected drug traffickers in western Afghanistan. They were among 14 US casualties suffered in helicopter crashes Monday. An additional eight US soldiers were killed Tuesday, making October the bloodiest month for the US in Afghanistan since it invaded and occupied the country eight years ago.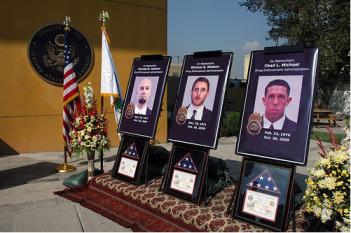 The
DEA identified the dead agents
as Forrest Leamon, 37; Chad Michael, 30; and Michael Weston, 37. Leamon and Michael were members of the DEA's FAST (Foreign-deployed Advisory and Support Teams) and Weston was assigned to the DEA's Kabul country office. Their deaths were the first reported by the DEA since it initiated operations in Afghanistan in 2005 in a bid to thwart the country's multi-billion dollar opium trade.
Afghanistan supplies more than 90% of the world's illicit opium, the raw ingredient for heroin. The UN Office on Drugs and Crime reported last week that Taliban insurgents earn as much as $160 million a year from taxing poppy farmers, protecting drug shipments, and operating their own drug smuggling networks. Those funds help finance Taliban operations against US and NATO forces and their allies in the Afghan armed forces.
The helicopter crashed in the predawn hours Monday after returning from a raid in which US and Afghan soldiers attacked a suspected drug trafficking compound. The US military said a dozen insurgents were killed in the raid. The Taliban claimed credit for shooting down the chopper, but US officials denied that it had gone down because of enemy fire.
The incident came as Afghan officials fiercely criticized a US military hit list of about 50 suspected drug traffickers, saying targeting them to be killed or captured "on the battlefield" undermines the Afghan justice system and could trigger a backlash against foreign troops. It was unclear if the compound attacked Sunday night belonged to a trafficker on the hit list.
Anti-Western sentiment is already running high in Afghanistan. This weekend, police in Kabul clashed with anti-American rioters infuriated by rumors that American soldiers had burned a copy of the Koran. Several people were wounded when police opened fire on the angry crowd.