Opium production in Afghanistan could be reduced by as much as a quarter this year because a fungal disease is afflicting the crop, UN Office on Drugs and Crime head Antonio Maria Costa told the BBC Wednesday. Farmers are quick to point the finger at the US and NATO, although evidence that the disease is anything but a natural phenomenon is lacking.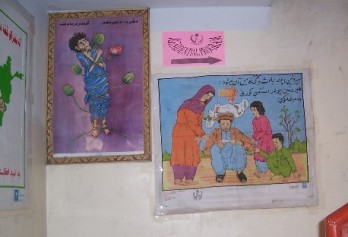 Costa said the fungus may have infected half the country's poppy crop. He added that opium prices had increased by about 50% in the areas affected.
Afghanistan produces more than 90% of the world's illicit opium. Increasing prices could mean increased revenues for Taliban insurgents, Costa suggested. The Taliban is sitting on large stockpiles of opium left from record levels of production in the last few years.
The fungus is appearing primarily in Helmand and Kandahar provinces, the heartland of both the Taliban and current Afghan opium production. US and NATO forces are about to launch major offensives in the area to try to clear and secure it. In a bid to win popular support in the region, the US has backed away from previously supported eradication campaigns, choosing instead to target drug traffickers linked to the insurgents. In the Bush administration, some officials had argued for the use of aerial spraying of herbicides, but that was rejected.
Still, some farmers think the US and NATO are poisoning their crops. Farmer Haji Mohammad in Nawzad told the BBC that he had seen a dramatic reduction in the amount of opium he was able to harvest. He described the fungus as an "aerial spray." He said his poppy harvest had shrunk 990 pounds last year to nine pounds this year.
"[It]... has affected my wheat cultivation and my chickens and other animals as well," he said. "The powder sprayed has a white color and I think it is chemical and if you squeeze it in your hand, water comes out of it."
Other farmers in the region also said they had seen a white substance on their crops. They, too, reported extensive crop damage and that livestock had been affected.
But Costa denied that the West was using biological warfare in Afghanistan. "I don't see any reasons to believe something of that sort," he said. "Opium plants have been affected in Afghanistan on a periodic basis."