The Afghan poppy trade is spilling over into Central Asia, legal marijuana goes on sale in Washington state on Tuesday, Georgia holds off on welfare drug testing, a California sentencing reform bill is now one vote away from passage, and more. Let's get to it: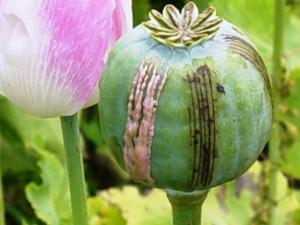 Marijuana Policy
Retail Marijuana Sales Begin at Noon Tuesday in Seattle. The first legal retail marijuana sale in Seattle will take place at noon Tuesday, the owner of Cannabis City says. But the first pot sold legally in Washington state may actually be purchased in Bellingham, where Top Shelf Cannabis says it will be open at 8:00am.
DC Mayor Calls for 4th of July Boycott of Maryland Shore to Protest Congressman's Move to Mess With City's Decriminalization Law. DC Mayor Vincent Gray (D) is joining DC activists in calling for city residents to not spend their holiday weekends in Ocean City or St. Michaels, Maryland. That's the area represented in Congress by Rep. Andy Harris (R-MD), who authored a successful amendment to a House budget bill that would effectively overturn the District's decriminalization law. DC residents who want to enjoy the beach should instead go to Rehoboth Beach, DE, or Chincoteague Island, VA, instead, Gray suggested.
Medical Marijuana
North Carolina Governor Signs Limited Low-THC, High-CBD Medical Marijuana Law. Gov. Pat McCrory (R) has signed into law a bill that will allow people suffering from certain epilepsy conditions to use cannabis extracts containing less than 0.3% THC and more than 10% CBD. But only neurologists in a pilot study may recommend it.
Drug Testing
Georgia Governor Holds Off Welfare Drug Testing. Gov. Nathan Deal (R) has announced that even though a new law to drug test welfare recipients went into effect Tuesday, he will delay implementing it until a federal appeals court rules on a similar Florida law. But the Florida law mandates suspicionless mandatory drug testing, while Georgia's law, House Bill 772, only requires drug testing upon suspicion of drug use, so some critics are wondering if something else is at play. The Georgia law also had a food stamp applicant drug testing provision, but that part has already been nullified by the US Department of Agriculture, which runs the food stamp program.
Sentencing
California Fair Sentencing Act Wins Final Assembly Committee Vote. The California Fair Sentencing Act (Senate Bill 1010) was approved by the Assembly Appropriations Committee on a 12-3 vote Wednesday and now heads for an Assembly floor vote. Sponsored by Sen. Holly Mitchell (D-Los Angeles), the bill would correct the sentencing and other disparities between crack and powder cocaine. The bill has already been approved by the Senate.
Law Enforcement
US Indicts Three Peruvian Shining Path Leaders on Drug, Terrorism Charges. Three leaders of the Peruvian Shining Path guerrilla group have been indicted in New York on drugs, weapons, and terrorism charges. They are accused of cocaine trafficking and committing terrorist acts against Peruvian -- not American -- civilians and military personnel. They are Florindo Flores Hala, also known as Comrade Artemio, and Victor and Jorge Quispe Palomino. Flores Hala is in custody, but the Quispe Palomino brothers are not. Among other things, they are charged with providing material support to a terrorist organization, i.e. themselves.
ACLU Sues Massachusetts SWAT Teams for Refusing to Release Public Records. The ACLU of Massachusetts has filed a lawsuit against SWAT teams in the state after they refused to release records sought in a freedom of information request. The SWAT teams are making the novel legal argument that they are not required to comply because the law enforcement councils that operate them are not public entities, but private, not-for-profit groups. Click on the link for a lengthy article on the issue.
International
Afghanistan's Central Asian Neighbors Complicit in Drug Trade, Report Says. About the only substantive cooperation between Afghanistan and its Central Asian neighbors comes in turning a blind eye to the opium and heroin trade, according to a new report from Afghanistan Analysts. The report is Between Cooperation and Insulation: Afghanistan'sa Relations With the Central Asian Republics.