Ohio pot legalizers are throwing millions of dollars into the effort, the Federal Reserve throws up another obstacle to marijuana banking, some Colorado cops will start carrying naloxone, and more.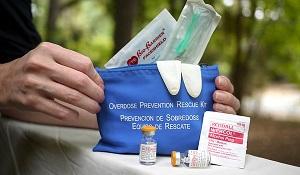 Marijuana Policy
Marijuana Banking Hits Another Road Block. In a court filing in Denver Wednesday, the Federal Reserve made clear that it does not plan to accept money from the marijuana industry because pot remains illegal under federal law. Last year, the Treasury Department issued rules for how banks can accept marijuana money, but the Fed isn't interested. Colorado officials aren't pleased. "We're frustrated," said Andrew Freedman, director of marijuana coordination for Colorado Gov. John Hickenlooper. "We tried to do the most with the building blocks of instructions they sent us, set up the most rigorous solution. And we still are left with confusion."
Ohio Legalization Campaign Outspending Opponents 16 to 1. The ResponsibleOhio legalization campaign has spent $15.4 million trying to get its initiative passed, while opponents have managed to raise only $712,000, most of it from the campaign arm of the Ohio Chamber of Commerce. ResponsibleOhio is getting its money from investors, who stand to reap financial benefits by owning one of only 10 commercial marijuana grow sites. The figures come from campaign finance reports released Thursday. Two polls this week show the race to be dead even.
Medical Marijuana
Florida Supreme Court Sets December Date for Hearing on Initiative. The court said it will hear oral arguments on whether language for a medical marijuana initiative complies with state requirements on December 8. The initiative is sponsored by People United for Medical Marijuana, the same group behind last year's failed initiative. (It actually won a majority of the vote, but because it was a constitutional amendment, it needed 60% to pass). The group said it has already turned in nearly half the 683,000 valid voter signatures needed to qualify for the 2016 ballot.
New York Unveils Medical Marijuana Training Course for Doctors. The state Health Department this week rolled out an online medical marijuana training course for physicians who wish to prescribe it. Doctors who want to register to prescribe medical marijuana must first complete the four-hour course. The state aims to have medical marijuana available for patients by next January.
Harm Reduction
Colorado Springs Cops Become First in State to Carry Overdose Reversal Drug. Police in Colorado Springs are currently undergoing training on how to administer naloxone (Narcan), the opioid antagonist that reverses overdoses, and will begin carrying it once training is completed. That's the first police department in the state to do so. The state passed a law last year allowing people other than medical staff to carry and administer the drug.