It was judgment day for two cops and a jail guard this week, and another jail guard just found out his judgment day is coming. Meanwhile, new corrupt cop cases showed up at a rate of one a day this week. Let's get to it:
In El Paso, a US Customs and Border Protection officer was arrested Monday on federal charges of conspiracy to distribute marijuana. Officer Daniel Ledezma, 33, is accused of knowingly allowing trucks filled with marijuana to pass through the Bridge of the Americas. He was in the El Paso County Jail pending a hearing this morning.
In Los Angeles, an LAPD officer was charged Tuesday on federal methamphetamine distribution charges. Officer Yoshio Romero, 28, a five-year veteran, is accused of arranging to sell 111 grams of meth last December for $42,000. He allegedly placed the drugs in a box in a pick-up truck, then told the buyer where the truck could be found.
In Providence, Rhode Island, a fourth Providence police officer has been arrested in a massive drug sting that in March resulted in the arrest of three more Providence police officers. The fourth officer, whose name was not revealed, turned himself in Wednesday. Twenty people have been indicted so far in "Operation Deception," with two still being sought on warrants.
In McAllen, Texas, the Sullivan City police chief was indicted Thursday on federal drug and conspiracy charges as part of the massive "Project Deliverance" sweep that netted more than 2,200 people nationwide. Police Chief Hernan Guerra had been arrested by FBI agents the day before the indictment was unsealed. He is accused of being part of a conspiracy that moved at least two tons of marijuana through the Rio Grande Valley in the last year. The chief is now on administrative leave.
In Franklin, Indiana, two Franklin police officers have been hit with a sexual harassment lawsuit from a former informant. The lawsuit claims Franklin Detective Bryan Burton made a deal with the victim to help with her DUI and child custody problems in exchange for her help busting drug dealers. She wore a wire and a concealed camera, but Burton began behaving inappropriately, the lawsuit alleges. It says he entered her home, photographed a sex toy, put it in her car when she didn't know it was there so she would sit on it. The lawsuit also claims Burton exposed himself to her and that his partner, Officer Ryan Mears, went along with it. Burton was already in trouble this year, having been demoted in March for drinking on duty, providing alcohol to minors, and making suggestive remarks to female informants.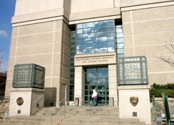 In Craig, Colorado,
a former Craig Police detective was sentenced Tuesday
in Moffat County District Court to serve 60 days in jail for his corrupt relationship with a Craig woman with past convictions for drug distribution and possession. Former detective Ken Johnson was arrested last September for providing the woman information about ongoing police investigations and helping her break probation. He also gave her a laptop belonging to the department. He was originally charged with embezzlement of public property, and accessory to a crime -- both felonies -- as well as attempting to influence a public servant, a lesser felony. He copped to the latter in return for a plea agreement where prosecutors stipulated no more than 60 days in jail. Johnson will do all but a week on work release. He must also do 150 hours community service, pay $1700 in fines and costs, undergo psychotherapy and DNA testing, and write letters of apology to the department, the Moffat County Drug Court and the All Crimes Enforcement Team of which he was a member. He starts his sentence today.
In Baltimore, a former Baltimore City Detention Center guard was sentenced Monday to two years in prison after pleading guilty to smuggling drugs and a cell phone to a prisoner there. Lynae Chapman, 21, went down last October after prison officials found her DNA on drugs and a cell phone discovered during the search of a prisoner's cell. She was convicted of six charges, including conspiracy to distribute marijuana and professional misconduct in office.
In Platte City, Missouri, a former Weston police officer was sentenced June 3 to four years in prison for stealing drugs from the department's evidence room. Kyle Zumbrunn, 27, had pleaded guilty to stealing a controlled substance. He had already pleaded guilty in Atchinson County, Kansas, to selling the dope he stole and was sentenced to 16 months there. The four-year Missouri sentence will run concurrently with the Kansas sentence. He had been looking at up to seven years in prison.
In Paterson, New Jersey, a former Passaic County Jail guard was convicted last Friday on charges he smuggled heroin and homemade weapons into the jail. Former guard Marvin Thompson was acquitted of bringing escape implements into a jail, but convicted of heroin possession and filing false police reports. Thompson went down in a bizarre effort at self-aggrandizement: He smuggled the contraband into the jail with plans to then "discover" it and blame it on a gang leader in a bid to earn a permanent position, but an inmate snitched him out, and instead of a permanent job at the Passaic County Jail, he is now a temporary resident of a nearby county jail awaiting a probable transfer to the state pen. He faces five to 10 years in prison when he is sentenced July 9.