An Illinois sheriff goes down hard, a Massachusetts police chief parties too hard, a Massachusetts cop gets nailed for helping out his local pot dealer, and a Florida motorcycle cop gets caught stealing a bud in his helmet. Let's get to it: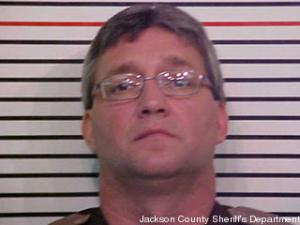 In Benton, Illinois,
the former Gallatin County sheriff was sentenced to life in prison January 19
for trafficking marijuana on the job and conspiring to have potential witnesses killed. Former sheriff Raymond Martin had been jailed since May 2009, when federal agents arrested him on marijuana dealing charges. He went down after the man he was selling pot to decided he wanted out, and Martin said he could make him disappear. The dealer instead went to the DEA and became a cooperating witness. While in jail awaiting trial, he conspired with his wife and son to kill witnesses set to testify against him. He was convicted on 15 counts, getting two life terms on weapons charges and numerous 10- and 15-year concurrent sentences.
In Salisbury, Massachusetts,
the former police chief is accused of exchanging drugs and money for sex with known criminals
-- and much more! -- in a 31-page report compiled after town officials hired an outside investigator. Former Chief David L'Esperance, who resigned the day he was set to be interviewed during the investigation, is also accused of falsifying police records, improperly interfering in arrests, and numerous other violations. The report is being forwarded to other law enforcement agencies, so criminal charges could be soon forthcoming. Investigators focused on allegations that L'Esperance gave money and drugs to three women in their twenties, at least two of whom had criminal records or drug addictions, in return for sexual favors. He is also accused of taking "trophies" from arrest scenes, including a bag of cash seized during a drug raid.
In Worcester, Massachusetts,
a Worcester police officer was convicted January 19
on drug charges for tipping off a marijuana dealer that police were near his workplace. Officer Carlos Burgos was found guilty on one federal count of conspiracy to distribute marijuana. Prosecutors said that Burgos had a one-minute telephone conversation with the dealer in January 2009 in which he warned him that undercover officers were near the location where he worked. No sentencing date was announced.
In Winter Haven, Florida,
a Winter Haven police officer resigned January 20
after being busted stealing a bud of marijuana during a drug arrest. Ricardo Flores, 36, a motorcycle officer was fingered by fellow officers for hiding a bud in his motorcycle helmet before heading home as his shift ended. He is charged with felony burglary -- for taking the bud from a vehicle -- as well as petty theft and possession of less than 20 grams of pot.