by Bernd Debusmann, Jr.

Mexican drug trafficking organizations make billions each year smuggling drugs into the United States, profiting enormously from the prohibitionist drug policies of the US government. Since Mexican president Felipe Calderon took office in December 2006 and called the armed forces into the fight against the so-called cartels, prohibition-related violence has killed more than 38,000 people, including more than 15,000 last year. The increasing militarization of the drug war and the arrest or killing of dozens of high-profile drug traffickers have failed to stem the flow of drugs -- or the violence -- whatsoever. The Merida initiative, which provides $1.4 billion over three years for the US to assist the Mexican government with training, equipment and intelligence, has so far failed to make a difference. Here are a few of the latest developments in Mexico's drug war: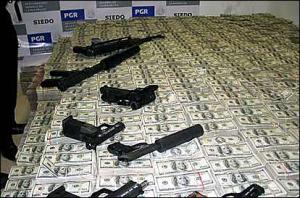 Wednesday, June 22
In Tamaulipas, the
Mexican military began the process of taking over 22 local police
departments, including the violence plagued areas of Nuevo Laredo, Miguel Aleman, Mier, Camargo, Reynosa, Tampico, and Matamoros. The military is expected to secure the areas while new, vetted police are hired.
Thursday, June 23
In Cuahtemoc, Chihuahua,
seven people were kidnappe
d
from a drug rehab center by heavily armed gunmen. At least three of the kidnap victims managed to escape the center but were later discovered by gunmen and forced into a car nearby. Marines investigating the incident discovered 190 packets of cocaine and pot at the center.
In Mexico City,
President Calderon had a public debate
with activist and poet Javier Sicilia in which he defended his use of the military against drug cartels while at the same time apologizing to the victims of drug-related violence such as Sicilia's son, who was murdered in Morelos in March along with six friends.
Saturday, June 25
In Ciudad Juarez,
at least eight people were murdered.
In
one incident,
two transit police officers were shot dead by gunmen who shot them from moving vehicles as the officers were making a traffic stop. It appears the officers were deliberately targeted.
In Monterrey,
four men were lined up against a wall and shot
after having been dropped off by a group of heavily armed men in an SUV.
In Veracruz,
Mexican authorities captured Albert Gonzelaz Pena
, also known as "El Tigre," who is thought to a high-ranking Zeta commander in charge of Veracruz and the state of Mexico. He is wanted in connection with at least three kidnappings and is thought to be heavily involved in local extortion schemes.
Sunday, June 26
In Ciudad Juarez,
at least seven people were killed
. Among the dead were four men who were found dead at a baseball field where they regularly played, and a federal police officer who was shot dead after being chased on foot by gunmen.
Monday, June 27
In the Monterrey suburb of Santa Catarina,
the police chief was gunned down in his office.
Chief German Perez was in his office when at least two cars and three trucks full of gunmen arrived at the location and went directly to his office, where he was shot at least eight times.
On Tuesday,
it was announced
that seven police officers were being investigated in the incident, as they did nothing. Among the seven were the chief's personal bodyguards.
In Oaxaca, a
priest said that at least 80 Central American migrants
had been kidnapped from a train which was carrying them north towards the US border.
Tuesday, June 28
In Mexico City,
President Calderon said he felt "misunderstood
" in the government's war on drug cartels, which he launched after taking office in December 2006. He said that many people -- "perhaps silently" -- support the military campaign. As success, he cited that 21 of the country's 37 top drug lords have been killed or captured.
[Editor's Note: We cannot accurately tally the drug prohibition-related killings in Mexico at this time. El Universal, the only Mexican newspaper that was doing so on a regular basis, has stopped. We will have to rely on official pronouncements on the death toll, and will report them when they happen. Below are the numbers through the end of last year. With more than 1,400 reported dead in April alone, this year's toll could well exceed last year's. As of this month, we believe the total death toll has surpassed 38,000.]
Total Body Count for 2010: 15,273
Total Body Count for 2009: (approx.) 9,600
Total Body Count for 2008 (approx.): 5,400
Total Body Count for 2007 (approx): 4,300
Total Body Count for Calderon's drug war through 2010: 34,883