Medical marijuana petitioners are busy in North Dakota, the Indiana legislature will take up asset forfeiture next session, the Spanish Supreme Court rules against a leading cannabis social club, and more.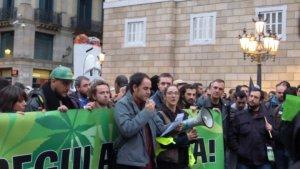 Medical Marijuana
North Dakota Initiative Off to Fast Start on Signature Gathering. The North Dakota Committee for Medical Marijuana said Monday that it had gathered between 700 and 800 signatures during its first three weeks of petitioning for its initiative. The group needs 13,452 valid voter signatures by July 11 to appear on the November ballot. It says its goal is to gather at least 15,000 signatures.
Asset Forfeiture
Indiana Bill Would End Civil Asset Forfeiture. A bill pre-filed earlier this month in the state legislature would require a criminal conviction of the property owner before finalizing asset forfeiture. The bill, from Sen. Lannie Randolph (D), would also allow property owners to file for a hardship release of property and it would require judges to ensure that any seizures are proportionate to the offense. The measure is Senate Bill 123.
International
Spanish Supreme Court Sentences Cannabis Club Members to Prison. The country's high court reversed a lower court decision favoring members of the Pannagh cannabis club and instead has sentenced four of them to prison terms and hefty fines. They were convicted of drug trafficking for their roles in the cannabis social club. The high court decision can and will be appealed.
Mexico's Marijuana Legalization Debate Begins January 25. The congress will take up the topic in a debate set for that date, with others to follow through February 17. The debate comes after the country's court have carved out limited exceptions to marijuana prohibition for medical marijuana patients and a handful of recreational users.