Another poll has a national majority for pot legalization, the Vermont legalization bill is now before the House, the CDC urges doctors to really cut back on pain pill prescriptions, a New York assemblywoman wants supervised injection sites, a Mexican governor wants a pilot program of opium cultivation, and more.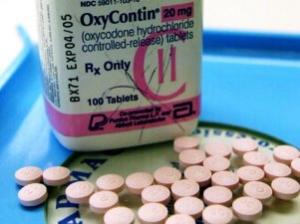 Marijuana Policy
Another Poll Has a Narrow National Majority for Legalization. A new national tracking poll conducted by Morning Consult has support for legalization at 52%, with 43% opposed and 5% undecided. That's in line with other major national polls in recent years that generally show support for legalization in the 50s. The most recent Gallup poll had it at 60%.
Massachusetts Sheriffs Oppose Legalization Initiative. More of the usual suspects weigh in against legalization, with the state's sheriffs saying it would destigmatize drug use and make it easier for teens to get their hands on the weed. Last week, the state Hospital Association and leading elected officials, including Gov. Charlie Baker (R), Attorney General Maura Healey (D), and Boston Mayor Marty Walsh (D) came out against the initiative from the Campaign to Regulate Marijuana Like Alcohol in Massachusetts.
Vermont Legalization Bill Now Before House. Senate Bill 241, the pot legalization bill, is now before the House Judiciary Committee. On Tuesday, Sen. Dick Sears (D-Bennington) and Sen. Joe Benning (R-Caledonia) introduced the bill to the committee.
Medical Marijuana
Georgia CBD Cannabis Oil Bill Revived. Supporters of House Bill 722, which would expand access to CBD cannabis oil, have resurrected the measure by attaching its language to an old Senate bill. It could go to a House vote as early as today. The bill would expand conditions that qualify for CBD cannabis oil and allow companies outside the state to ship it in. Language that would have allowed in-state marijuana cultivation to produce the oil was stripped out earlier in the House.
More Michigan Medical Marijuana Dispensary Raids. The West Michigan Enforcement Team (WEMET) has raided four dispensaries for allegedly selling medical marijuana to cardholders who were not their registered patients. Two were in Saugatuck, one in Allegan City, and one in Pullman. Twelve other Northern Michigan dispensaries were raided last week.
Ohio Medical Marijuana Campaign Resubmits Initiative. That didn't take long. Last Friday, Attorney General Mike DeWine (R) rejected the Ohioans for Medical Marijuana initiative because of deficiencies in its summary. On Tuesday, the campaign submitted revised language. After 20 days of review by state officials, the campaign will then have until July to gather 306,000 valid voter signatures to qualify for the November ballot.
Criminal Justice
Massachusetts Conference Committee Agrees on Ending Driver's License Suspensions for Drug Offenders. House and Senate negotiators announced Tuesday that they had reached agreement on a bill to end the state's long-running policy of automatically suspending for five years the driver's licenses of people convicted of drug crimes. The relic of the 1980s drug war will be officially repealed after the full House and Senate vote on the amended bill. Both houses passed bills, and the conference committee has been ironing out the differences. More than 30 other states have taken similar steps.
Heroin and Prescription Opioids
CDC Urges Docs to Reduce Prescribing Pain Relievers. In a move bitterly decried by chronic pain advocates, the Centers for Disease Control and Prevention (CDC) said Tuesday doctors should only prescribe opioid pain relievers as a last resort. Instead, doctors should urge their patients to try physical therapy, exercise, and over-the-counter medications before using opioids to treat chronic pain. The CDC is recommending not using opioids except to treat cancer and for palliative end-of-life care, using the lowest effective dose of opioids, and limiting prescriptions to three days for short-term pain.
Harm Reduction
New York Assemblywoman Wants Supervised Injection Facilities Statewide. Assemblywoman Linda Rosenthal (D-Manhattan) said Tuesday she will soon introduce a bill to establish the harm reduction facilities. Rosenthal's move comes after Ithaca Mayor Svante Myrick hoisted a proposal for such a facility there. "New York, and nearly every other state across the country, is grappling with a heroin and opioid addiction crisis that has grown to epidemic proportions," said Rosenthal, who heads the Assembly's Committee on Alcoholism and Drug Abuse, in a statement. "Addiction is a public health crisis, and we must address it as such, with aggressive, community-based solutions that reduce harm and provide access to life-saving treatment services."
International
Mexican Governor Proposes Legalizing Opium Cultivation. Hector Astudillo, governor of violence-plagued Guerrero, said Monday that legalizing opium cultivation for medical purposes might help reduce the violence in his state and the idea should be considered. "Let's do some sort of pilot scheme," Astudillo, a member of President Enrique Pena Nieto's Institutional Revolutionary Party, said. "Provided it's used for medical issues ... It's a way out that could get us away from the violence there has been in Guerrero," he added.