The controversial ResponsibleOhio legalization initiative continues to make news, a Florida legalization initiative kicks-off tomorrow, the Dark Web's biggest drug marketplace is shutting down -- at least temporarily -- and more.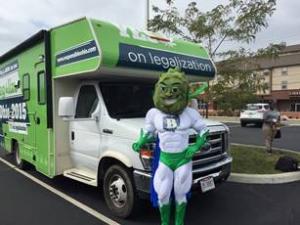 Marijuana Policy
Florida Legalization Initiative Rolls Out Tomorrow. An initiative campaign to legalize marijuana in the Sunshine State will begin with a news conference in Fort Lauderdale tomorrow morning. The Sensible Florida PAC will announce a signature-gathering drive for a constitutional amendment to regulate marijuana like alcohol. Some 683,000 valid voter signatures will be needed, and since this is a constitutional amendment, it will need 60% of the vote to pass.
Ohio Legalizers Roll Out "Buddie" Mascot, Get Flak From Child Advocates. The folks behind the ResponsibleOhio legalization initiative have introduced their mascot, "Buddie," a cape-wearing superhero with a green marijuana bud for a head and a "B" logo over a picture of a pot leaf. Some child advocates grumbled that the mascot would lead kids to believe that pot is OK. ResponsibleOhio said Buddie will only visit college campuses filled with voting age college students.
Ohio Legalizers Go to State Supreme Court Over Ballot Language. ResponsibleOhio asked the Supreme Court today to reject the state Ballot Board's wording of its initiative. In a 40-page complaint, the group claimed the board used prejudicial language, deliberate omissions, and outright falsehoods by Secretary of State Jon Husted (R) and his staff, and that the resulting language is "fatal to the validity of the ballot."
Drug Policy
Maine Governor to Call Out National Guard to Fight Drugs. Tea Party Republican Gov. Paul LePage said Wednesday the state would ramp up police efforts to fight drugs in the state, including deploying the National Guard to support the struggle against drug trafficking. He also renewed his pleas for more funding for more cops and prosecutors, a stance that leaves him at odds with the state legislature. LePage's remarks come a day after drug czar Michael Botticelli told a Maine roundtable the state needs more drug treatment facilities.
International
Dark Web's Largest Drug Marketplace Closing Its Doors -- For Now. Agora, the reigning champion among Dark Web drug sellers, is shutting down at least temporarily to heighten its defenses against intruders who may be seeking to identify and bust the site's operators and servers. The site's anonymous administrators said they had detected "suspicious activity" they thought was aimed at breaking the anonymity software Tor browser, which could reveal not only administrators, but customers. "At this point, while we don't have a solution ready it would be unsafe to keep our users using the service, since they would be in jeopardy," Agora said. "Thus, and to our great sadness we have to take the market offline for a while, until we can develop a better solution. This is the best course of action for everyone involved."