Congress continues to block DEA harassment in medical marijuana states, Washington state could see a lot more pot shops, it looks like Florida will vote again on medical marijuana, Ireland is moving toward setting up a supervised injection site in Dublin, and more.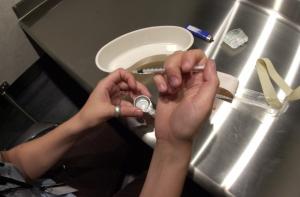 Marijuana Policy
Congress to Continue Blocking DEA Interference With Medical Marijuana States. Lawmakers have extended a ban on funding for the DEA and Justice Department to go after medical marijuana in states where it is legal. They also extended protections for hemp research, but failed to include provisions that would have allowed pot businesses to use the financial system and would have allowed Veterans Administration doctors to recommend medical marijuana.
Washington Could Allow Lots More Marijuana Stores. The Washington State Liquor and Cannabis Board (WSLCB) today heard a staff recommendation to increase the number of retail marijuana outlets from 334 to 556. The move is expected to be finalized in emergency rules to be announced January 6.
Medical Marijuana
Florida Medical Marijuana Initiative Already Has 900,000 Signatures. The United for Care initiative campaign says it already has 900,000 signatures, but is aiming for more than one million. These are raw signatures. The initiative will need 683,149 valid voter signatures to qualify for the 2016 ballot. A similar initiative won 58% of the vote last year, but failed because, as a constitutional amendment, it needed 60% to pass.
Illinois to Consider Adding New Qualifying Conditions. State residents hoping to add a new disease or medical condition to the state's list of qualifying conditions will be able to do so during the month of January, state health officials said Wednesday. They can submit petitions to the state Department of Public Health through January 31.
Methamphetamine
Indiana Legislators Compete Over How to Restrict Access to Cold Medications. Faced with a bill that would require a doctor's prescription to obtain cold medications containing pseudoephedrine, two lawmakers have come up with an alternative measure that would instead allow pharmacists to decide whether or not customers could buy the cold medications.
Drug Treatment
Most People in Treatment for Marijuana Are Sent There By Courts. A report this month from the US Department of Health and Human Services finds that between 2003 and 2013 52% of people in drug treatment for marijuana were referred by the criminal justice system. Only 18% were in treatment because they sought it themselves.
International
Irish Cabinet Approves Supervised Injection Site in Dublin. The cabinet has approved a pilot plan for a medically supervised injection facility in the nation's capital. The move came yesterday and was at the behest of Aodhan O'Riordain, the minister in charge of the National Drug Strategy. The country's drug law must first be amended to allow for such facilities, which should happen early next year.