The 8th US Circuit Court of Appeals in St. Louis last Tuesday upheld a lower court's decision to dismiss a lawsuit by a pair of North Dakota hemp farmers who argued they should be able to grow hemp crops without fear of federal prosecution.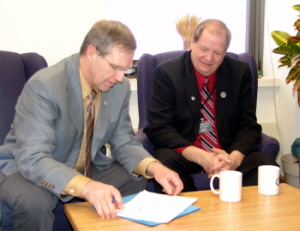 Farmers Wayne Hauge and David Monson, who is also a Republican state representative, were awarded licenses from the state department of agriculture to grow hemp three years ago. They sought approval from the Drug Enforcement Administration (DEA), and after the DEA failed to respond, they filed suit in US District Court in Bismarck. There, US District Judge Daniel Hovland dismissed their suit.
The DEA considers hemp to be marijuana. It took a successful federal court challenge to force the DEA to continue to allow for hemp food products to be imported, but American farmers are still forced to stand on the sidelines and watch as their Canadian, Chinese, and European counterparts fill their wallets with profit from hemp sales.
"I guess the next step is we'll have to take it to Congress," Hauge told the Associated Press. "The fastest and easiest way to handle this would be for the president to order the Department of Justice to stand down on all actions against industrial hemp," he added, alluding wistfully to the department's announced policy shift on medical marijuana.
But Congress has other things on its plate, Monson told the AP. "With all the other things, hemp is not high on their priority list, and I can understand that," Monson said. "Somehow, we need to get enough states involved so Congress can take action on it," Monson said.
Adam Eidinger, a spokesman for the industry association VoteHemp, said he was disappointed, but not surprised, by the decision."The 8th Circuit is kind of conservative, so I can't say I'm totally surprised," he said.
No word yet on whether VoteHemp and the farmers will pursue the case any further.