The US Supreme Court Tuesday ruled that a law making it a felony to use a communication device in "committing or in causing or in facilitating" a drug deal cannot be used against drug purchasers who use their phones to calls their dealers. The unanimous ruling came in Abuelhawa v. US.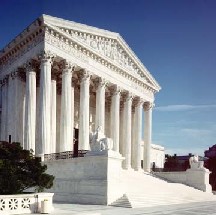 In that case, federal agents had wiretapped a drug dealer's phone. Among the calls they intercepted were six calls between Abuelhawa and the dealer in which Abuelhawa twice arranged to purchase single grams of cocaine, a misdemeanor offense under federal law. But federal prosecutors in the case charged Abuelhawa with six felony counts of using a communications device to facilitate a drug deal, one for each phone call.
Abuelhawa was convicted at trial. He appealed to the 4th US Circuit Court of Appeals, which upheld the conviction, and then to the US Supreme Court, which has now overruled it and sent the case back to district court.
"The Controlled Substances Act (CSA) makes it a felony 'to use any communication facility in committing or in causing or facilitating' certain felonies prohibited by the statute," wrote Justice David Souter in the opinion. "The question here is whether someone violates §843(b) in making a misdemeanor drug purchase because his phone call to the dealer can be said to facilitate the felony of drug distribution. The answer is no," he wrote.
"Where a transaction like a sale necessarily presupposes two parties with specific roles, it would be odd to speak of one party as facilitating the conduct of the other," Souter elaborated. "A buyer does not just make a sale easier; he makes the sale possible. No buyer, no sale; the buyer's part is already implied by the term 'sale,' and the word 'facilitate' adds nothing."
Souter noted that Congress had amended the CSA in 1970 to make simple cocaine possession a misdemeanor, not a felony, and limited the communications offense by changing the words "drug offense" to "drug felony." "Congress meant to treat purchasing drugs for personal use more leniently than felony distribution, and to narrow the scope of the communications provision to cover only those who facilitate a felony," he wrote.