The DEA's refusal to reschedule marijuana yesterday elicits reactions from Hillary Clinton and DC activists, a California bill to tax medical marijuana farmers dies in committee, Secretary of State Kerry gets a letter from Congress urging him to prioritize human rights when it comes to financing Mexico's drug war, and more.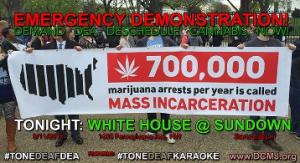 Marijuana Policy
In Wake of DEA Decision, Hillary Clinton Reiterates Call for Rescheduling Marijuana. Democratic presidential candidate Hillary Clinton will move to reclassify marijuana as a Schedule II substance, her campaign said in a statement after the DEA rejected reclassification Thursday. "As president, Hillary will build on the important steps announced today by rescheduling marijuana from a Schedule I to a Schedule II substance. She will also ensure Colorado, and other states that have enacted marijuana laws, can continue to serve as laboratories of democracy," senior Clinton advisor Maya Harris said.
In Wake of DEA Decision, Emergency Demonstration at the White House Tonight. Washington, DC, DCMJ legalization activists are gathering in front of the White House tonight at 8:20 PM to protest the DEA's refusal to move marijuana from Schedule I, the same schedule as heroin. "Here we are, 43 years and millions of marijuana arrests later, and we being told that cannabis is still as dangerous as heroin. WHAT THE HELL?!?!" organizers wrote on Facebook. "The Obama Administration's DEA thinks Americans should go to jail for a non-toxic plant. WE THINK OTHERWISE!"
Medical Marijuana
California Medical Marijuana Tax Bill Dies in Committee. A bill that would have imposed a tax on commercial medical marijuana growers has been killed in the Senate Appropriations Committee. Assembly Bill 2243 would have imposed a tax of up to $9.25 per ounce of marijuana buds, $2.75 for pot leaves, and $1.25 for immature pot plants. The panel killed the bill after patient advocates said it would impose a burden on patients.
International
Canadian Medical Marijuana Patients Will Be Able to Grow Their Own. Health Canada said Thursday that medical marijuana patients will be able to grow limited amounts for themselves or have a caregiver do so. The move comes as the government attempts to comply with a federal court ruling that struck down the previous Conservative government's ban on patients growing their own. Patients would also still have the option of buying from one of 34 producers licensed by the federal government.
Congresspersons Sign Letter to Secretary of State Kerry Urging That US Prioritize Human Rights in Mexico. Some 68 members of Congress have signed onto a letter urging Kerry to make human rights a priority in US relations with Mexico. The letter expresses concern over the "27,000 unresolved cases of people who have disappeared in Mexico since 2007, and the slow pace of reforms in the military, law enforcement and justice sectors," as well as the persistent use of torture in criminal investigations. It calls for US support for the ongoing investigation and search for the 43 disappeared students from the Ayotzinapa rural teachers' college. And it reiterates the need for accountability and justice in the cases of grave abuses committed by Mexican security forces in Oaxaca and Tlatlaya. The letter comes as the State Department is reviewing the Mexican government's compliance with human rights conditions attached to US anti-drug funding.
(This article was prepared by StoptheDrugWar.org"s lobbying arm, the Drug Reform Coordination Network, which also pays the cost of maintaining this web site. DRCNet Foundation takes no positions on candidates for public office, in compliance with section 501(c)(3) of the Internal Revenue Code, and does not pay for reporting that could be interpreted or misinterpreted as doing so.)