The DEA admits the screamingly obvious, the National Council of State Legislatures tells the feds to let states set their own pot policies, another South Florida community decriminalizes, and more.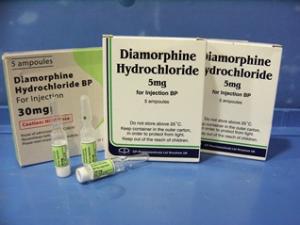 Marijuana Policy
Finally, DEA Head Admits Heroin More Dangerous Than Marijuana. Former DEA chief Michele Leonhart just couldn't wrap her head around that notion, and her successor, Chuck Rosenberg, was struggling last week, when he conceded that marijuana is "probably not" as bad as heroin. But Wednesday, Rosenberg came clean, admitting that "heroin is clearly more dangerous than marijuana."
National Council of State Legislatures Passes Motion Calling for Feds to Butt Out of State Marijuana Laws. The resolution passed today declares that states should have the right to set their own marijuana and hemp policies. "States are increasingly serving as laboratories for democracy by adopting a variety of policies regarding marijuana and hemp," the preamble says, adding that "the federal government cannot force a state to criminalize cultivating, possessing, or distributing marijuana or hemp -- whether for medical, recreational, industrial, or other uses -- because doing so would constitute unconstitutional commandeering." Click on the link to read the resolution.
Arizona Legalization Initiative Has Already Gathered 50,000 Signatures. The Marijuana Policy Project-backed Campaign to Regulate Marijuana Like Alcohol announced Wednesday that it had already gathered 50,000 signatures to get its legalization initiative on the November 2016 ballot. The group needs 150,000 valid voter signatures by July 2016 to qualify. If gatherers keep up their current pace, they could have 300,000 or so signatures by then. They need a cushion to account for gathered signatures that are invalidated, and that would provide one.
Another South Florida Community Decriminalizes. Hallandale Beach has become the first Broward County city to decriminalize pot possession after commissioners Wednesday night approved the measure. People caught with 20 grams or less will be ticketed and fined $100 instead of being arrested. Miami-Dade County passed a similar measure in July. West Palm Beach and Palm Beach counties are also expected to vote on a similar measure.
Addiction Treatment
Important Study Finds Heroin-Assisted Treatment Benefits Users and Society. A research review published in the British Journal of Psychiatry has found that heroin-assisted treatment (or heroin maintenance) is effective for patients who have not responded to other treatment options, such as residential treatment or methadone. "Heroin-prescribing, as a part of highly regulated regimen, is a feasible and effective treatment for a particularly difficult-to-treat group of heroin-dependent patients," the study concluded.