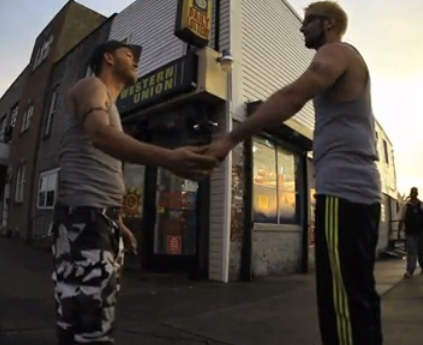 Stupid silver-bullet strategies to win the war on drugs are as common as the reckless zealots who dream them up, but rarely does one find an example so deeply absurd and irresponsible as this.
Sheriff Price believes there are still many dealers on the streets. He is now asking for the public's help to catch them.

"Basically what we need from the public to help combat this, is we need some informants. Without community involvement, there is no way we can combat these drugs. We have to have community involvement," said Sheriff Price.

The sheriff will pay people up to $100 to tell him who is dealing drugs and then possibly help with undercover work.

"If you know someone that sells drugs and you feel like you can put a stop to it by wearing a wire, at least come in. It doesn't cost you anything to come in and talk to us and we'll explain the process to you," said Sheriff Price. [WKYT.com]
It's fun and easy! Just use common sense. If someone tries to blow your head off, duck. If they set your house on fire, stop, drop and roll. After all, if teams of highly-trained, heavily-armed narco-cops can pull off these kinds of operations, what's your excuse? Certainly, you aren't afraid of a few ill-tempered drug dealers.
"Don't let people scare you. A lot of people are afraid they will get burnt out or beat up. I've done this for 25 years and got nobody hurt yet," said Sheriff Price.
Really, one can scarcely find words to describe the sickening irony of police suddenly claiming that drug enforcement is so safe a civilian could do it.
Frightened police officers routinely panic and unload their weapons on innocent people and pets when entering the homes of drug suspects. When that happens, we're reminded by them that this work is dangerous, that drug dealers are bloodthirsty killers, and that it's necessary we arm our police to the teeth and forgive any fatal errors they may make with their machine guns, because failing to do so could result police being shot at or bitten by dogs when they smash down people's doors looking for drugs.
Meanwhile, police want to pay random people $100 each to approach these same deadly criminals with no training or protective gear? The whole thing just makes a mockery of everything police ever said about the dangers of drug enforcement, and yet it does so for the purpose of persuading naive people to do something that really is incredibly risky. Drug informants are routinely identified and targeted for harassment and even death. The murder of Rachel Hoffman, who was arrested for marijuana and agreed to wear a wire, is a well-known example, but Google finds many more.
The whole idea is just idiotic on its face, and in ways that I would have thought obvious. The drug war isn't some action comedy on afternoon cable, and when you start screwing around with slippery BS like this, anything and everything could go horribly wrong. The fact that the war on drugs creates a temptation to enforce the law this way is a good example of why we'd be better off without it.
Looking for the easiest way to join the anti-drug war movement?
You've found it
!