Last month we sent some emails to our list and posted here about our new campaign to take on international drug policy reform, including but not limited to reform of the UN drug treaties. The first stage of this effort has reached a successful culmination. Two days ago we released a sign-on statement endorsed by more than 100 organizations including some major ones, calling for big changes to how the US and UN do business in drug policy, and for the process of reforming the UN drug treaties to be initiated.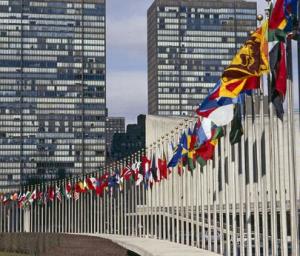 The statement has been covered so far by several major outlets including WashingtonPost.com and HuffPost Politics, and a second statement on the death penalty for nonviolent drug offenses was covered by HuffPost WorldPost, linked from the Huffington Post home page for almost 24 hours. The broad sign-on statement and links to news articles can be found at
http://stopthedrugwar.org/un
.
Right now at the UN General Assembly in New York, the "High Level Thematic Debate" on drugs that we've written is unfolding -- a live webcast (and probably an archive later) can be accessed here, and The CND Blog is doing live updates throughout the day here. It has already been historic. Jamaica's minister of justice, Mark Golding, called for a Committee of Experts to be appointed by the UN to study how to accomplish treaty reform, the central ask of our statement, and other countries backed this up with calls for moving to regulation and control instead of drug prohibition and the right of countries to do that.
At 1:30, many of us will gather in front of the UN to protest the recent executions by Indonesia of several people convicted of nonviolent drug crimes. We are wearing black ribbons. Many countries' speakers today have condemned the death penalty for nonviolent and drug offenses as a violation of the human rights treaties. Notably, many countries have also called for the criminalization of drug users to be ended as well.
Our work is making a difference in this hopeful process of change that is now unfolding, and we need your support to continue it. Would you be willing to make a donation now to help us take at least this first step? Donations to our tax-deductible nonprofit, DRCNet Foundation, and our non-deductible lobbying nonprofit, Drug Reform Coordination Network, both can be put toward this project and support the needs of this campaign. Visit http://stopthedrugwar.org/donate to donate by credit card or PayPal, or send your check or money order (made out to one of the two names listed above) to P.O. 9853, Washington, DC 20016.
We can also accept donations of stock; the information to give your brokerage is Ameritrade, (800) 669-3900), DTC #0188, and account number 781926492 for tax-deductible gifts to DRCNet Foundation or 864663500 for non-deductible gifts to Drug Reform Coordination Network -- please contact us if you are donating this way.
We'd also still like to hear from organizations that might like to endorse our sign-on statement or get involved in the campaign in other ways. You can write to us here.