A Navy destroyer on an anti-drug mission is forced to return to port, Peruvian coca growers are taking a financial hit during the pandemic, Montana GOP elected officials are opposing an effort to get electronic signature-gathering for a marijuana legalization campaign, and more.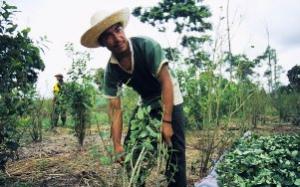 Marijuana Policy
Louisiana Poll Finds State Not There Yet on Marijuana Legalization. A new poll from Louisiana Public Opinion LLC shows that a majority of registered voters still oppose legalization -- but that number has decreased slightly. When respondents were asked if they favored legalization, only 37% said yes, compared to 54% opposed. That's up three points from the same survey conducted three years ago, but still well short of a majority.
Montana Republican State Officials Oppose Electronic Signature Gathering for Initiatives. Replying to a lawsuit from New Approach Montana, the sponsor of a constitutional initiative (Ballot Issue 11) that would set 21 as the legal age when people can use marijuana and a statutory initiative (Ballot Issue 14) that would set up a system of taxed and regulated marijuana commerce, the Republican secretary of state and attorney general officially responded that they oppose the electronic gathering of signatures for initiative campaigns impacted by the coronavirus pandemic. Secretary of State Corey Stapleton, the state's top election official, and the state of Montana, represented by Attorney General Tim Fox, have asked the court to throw out the lawsuits, arguing that the circumstances arise out of a "health emergency," not unfair election laws.
Interdiction
US Naval Destroyer on Counternarcotics Mission Forced to Return to Port After Being Hit by Coronavirus Outbreak. The USS Kidd, a guided missile destroyer doing counternarcotic missions in the eastern Pacific Ocean, has been forced to return to port after at least 18 sailors aboard the ship tested positive for the novel coronavirus. The Navy said the number of those infected with the virus on the vessel was expected to rise. The Kidd is part of the Trump administration's deployment of more warships and aircraft to the Caribbean and Eastern Pacific to fight drug cartels.
International
Peru Sees Big Drop in Black Market Coca Prices as Pandemic Bites into Drug Trade. Prices for coca leaf sold to illicit economy drug gangs have plunged 70% since the country went on lockdown last month, according to a local growers' organization. While the country has a legal coca market, an estimated 90% of the crop is destined for the black market. Now, the growers are calling on the government to buy up excess coca inventory for use in licit coca industries.