A Fox poll has support for legalization at an all-time high, Colorado's governor ponders freeing marijuana prisoners, the DEA emergency bans fentanyl analogues, New York's governor bans synthetic cannabinoids, and more.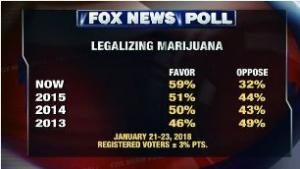 Marijuana Policy
Fox News Poll Has Support for Marijuana Legalization at Record High. A new Fox News poll has the poll's highest numbers yet in support of freeing the weed. Some 59% said legalize it, up from 51% in 2015, 46% in 2013, and 26% in 2001. The Fox poll results are in line with other national polls, which are now typically showing support for legalization in the high 50s or low 60s.
Colorado Governor Ponders Freeing Marijuana Prisoners. Gov. John Hickenlooper (D) is considering releasing nearly 40 prison inmates serving time for nonviolent marijuana offenses. "Right now, we have not enough room left in our prisons. So if what these people are serving serious time for wasn't violent -- is no longer illegal -- maybe we should be looking at (whether) it safe to release them," he said in an interview with The Denver Post. "We are talking about going out and finding people who are still in prison, and saying, 'If you want to apply we think your application will have favor,'" Hickenlooper said.
Virginia Poll Has Strong Support for Decriminalization. A new poll from the Wason Center for Public Policy at Christopher Newport University has support for decriminalization at 76%, with even 60% of Republicans in favor. The poll comes a week after Republicans in the state Senate killed a decriminalization bill.
Heroin and Prescription Opioids
DEA Emergency Schedules All Illicit Fentanyl Analogs. The US Drug Enforcement Administration this week placed all illicit fentanyl analogues not already regulated by the Controlled Substances Act into Schedule I -- the category for substances with no currently accepted medical use -- for two years, with the possibility of a one-year extension. The action is intended to reduce these substances' flow into the country and slow the alarming increase in overdose deaths linked to synthetic opioids, but time will tell.
Kratom
FDA Ramps Up Warnings on Kratom, Calls It "Opioid." The Food and Drug Administration on Tuesday ramped up its warnings about kratom, saying that new research says the herb has "opioid properties" and is linked to 44 deaths. "We feel confident in calling compounds found in kratom, opioids," FDA Commissioner Scott Gottlieb said in a statement. New data has reinforced the agency concerns about kratom's "potential for abuse, addiction and serious health consequences, including death."
New Synthetic Substances
New York Governor Uses Temporary Budget Amendment to Ban Sales of Synthetic Cannabinoids. Gov. Andrew Cuomo (D) announced Wednesday a 30-day budget amendment to add 36 different synthetic cannabinoids to the state's controlled substance list. While the substances are banned federally, only some New York counties had banned them. "As the manufacturers of this poison continue to evolve and find new and insidious ways to skirt the law, New York's statutes must continue to keep pace," Cuomo said. "With this action, we'll continue to identify and crack down on hazardous compounds that emerge in our communities, and give law enforcement the tools they need to end this public health threat."
International
Canada Legalization Rollout Could Be Delayed. Federal Health Minister Ginette Petitpas Taylor said Tuesday that recreational marijuana sales will only begin a few months after legalization later this year because the new legal sales system will take time to begin working properly. The Liberal government wants the new law in place by July 1, but if it takes until that date, legal sales could be pushed back to the fall.
Israel Prime Minister Blocks Medical Marijuana Exports, Calls for More Studies. Prime Minister Benjamin Netanyahu has suspended plans to allow Israeli medical marijuana growers to export their crops pending new reviews by the Health Ministry and the chairman of the National Economic Council. The move came after a Sunday meeting where Public Security Minister Gilad Erdan presented data on the diversion of medical marijuana into recreational markets.