Big Pharma companies that deal in opoids are taking a hit, California moves to get rid of a vestige of the dope squad days, and more.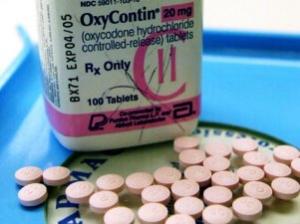 Drug Policy
California Senate Passes Bill to End State Narcotics Registry. The state Senate voted unanimously Tuesday to approve AB 1261, which would abolish the state's narcotics registry. A vestige of dope squad days, the registry was a requirement that anyone convicted of a drug felony, including marijuana cultivation, register with their county sheriff for five years after release. The measure has already passed the Assembly but has to go back for a final vote after changes were made in the Senate.
Heroin and Prescription Opioids
Oklahoma Judge Finds Johnson & Johnson Liable for Opioid Epidemic. In the first of more than a thousand lawsuits against Big Pharma over its role in the opioid epidemic to be settled, a district court judge ruled Monday that Johnson & Johnson and its subsidiaries helped fuel the state's opioid crisis and ordered the company to pay a whopping $572 million. "The opioid crisis has ravaged the state of Oklahoma," Cleveland County District Judge Thad Balkman said before announcing the judgment. "It must be abated immediately." Johnson & Johnson said it planned to appeal.
Purdue Pharma Offers to Settle Opioid Lawsuits for $10-12 Billion. Purdue Pharma, the makers of Oxycontin, and its owners, the Sackler family, have offered to settle more than 2,000 lawsuits pending against the company for $10 to $12 billion. The lawsuits, brought by states, cities, and counties, allege that the company and the Sacklers are liable for starting and sustaining the opioid crisis. They maintain that the company's sales practices were deceptive and at least partly responsible for the opioid crisis. In a statement, the company said: "While Purdue Pharma is prepared to defend itself vigorously in the opioid litigation, the company has made clear that it sees little good coming from years of wasteful litigation and appeals. The people and communities affected by the opioid crisis need help now. Purdue believes a constructive global resolution is the best path forward, and the company is actively working with the state attorneys general and other plaintiffs to achieve this outcome."
Kratom
Michigan Bill Would Require a Prescription for Kratom. A Republican state senator has filed a bill that would require kratom users to get a prescription for the herbal supplement. Sen. John Bizon (R-Battle Creek) filed SB 433, calling kratom "dangerous and addictive" in a news release. He also cited "an alarming increase recently in the number of deaths from this relatively unknown drug," but in almost all cases of fatal overdoses involving kratom, other drugs were present, making it difficult to determine kratom's role -- if any -- in those deaths.