The opium trade generates $6.7 billion a year, with much of that money staying in the hands of farmers and local traffickers, Afghan Deputy Interior Minister Mohammed Daud Daud told reporters at a Kabul press conference last Friday.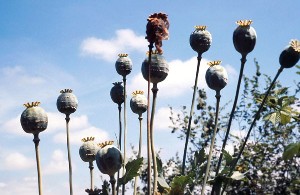 The opium trade also generates jobs, creating posts for some 110,000 Afghans involved in the traffic, Daud said, citing figures from the UN Office on Drugs and Crime (UNODC). That's not including the two million people involved in poppy production across the country. Daud estimated that farmers garner about 20% of the money generated, or about $1.4 billion last year, making opium far and away the country's top cash crop.
The division of proceeds between Afghan and foreign traffickers is unknown. Also unknown is just how much of the profits are ending up in the coffers of the Taliban and Al Qaeda, although all observers conclude they, too, are profiting from the trade.
They're not the only ones. Daud told the press conference anti-drug forces had arrested more than a thousand people in the past three years, including government officials.
Afghanistan provides more than 90% of the global opium supply, from which heroin is derived. According to the UNODC, this year's harvest will be another record-breaker, despite the limited eradication efforts of the Afghan government and its Western backers.