A wave of armed robberies at Washington state retail marijuana outlets has now resulted in three deaths in the month of March, and in rising frustration that Congress has not acted to protect those shops by allowing the state-legal marijuana industry access to banking services, which prevents them from accepting payment for purchases electronically.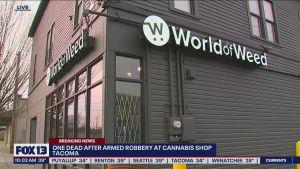 Ire over the issue reached the boiling point with the March 19 death of Jordan Brown, 29, a worker at World of Weed in Tacoma who was
shot and killed
in a robbery at the store. That came three days after a March 16
robbery
at the Factoria shop in Bellevue where the robber was shot and killed by police in a shoot-out, and two days after another
armed robbery
at the Euphorium Marijuana Shop in the Seattle suburb of Covington, where a security guard shot and killed the robber. And while the details needed to assess the role of cash in the World of Weed shooting haven't been reported by the time of this writing, in other incidents workers have cited robbers' demands for access to secured cash.
"We pride ourselves on a great safety record and operating procedures, we've always gone above and beyond, so this was a total shock to us," said World of Weed owner Alden Linn at a Tuesday roundtable organized by the state Liquor and Cannabis Board (LCB) to discuss the crisis. "We have two security officers, but we were overrun by four individuals, one of whom murdered Jordan Brown. He was a stellar employee, and this was a total shock for us. We had a false sense of security relying on our protocols. It's really been a blow to the community and the employees."
"There is a massive public safety crisis roaring through the state that has left tragic deaths in its wake, said LCB Chair David Postman. "Business owners and employees are fearful they may be next when they're forced to do business in cash. We have had 70 robberies in 83 days this year. We're approaching one a day."
While the LCB and the industry are working on steps they can take at the store, local, and state level, roundtable participants were unified in calling on Congress to pass legislation that would allow pot businesses to escape the cash-only bullseye painted on their front doors, namely the Secure and Fair Enforcement (SAFE) Banking Act (HR 1996).
The House has passed such legislation six times only to see it bottled up in the Senate, most recently blocked by Senate Majority Leader Chuck Schumer (D-NY), who wants to prioritize his own, yet to be actually filed, comprehensive marijuana legalization bill instead. Schumer has found allies in the drug reform movement, most notably the Drug Policy Alliance (DPA), which argues that passing banking reform before passing legalization would come "at the expense of equity and justice for Black, Latinx and Indigenous communities that have borne the brunt of prohibition" and would "prioritize marijuana profits over people."
That argument was not getting much support in Washington state this week.
"I've been trying to build momentum around comprehensive reform, but there's a narrative that incremental reform and comprehensive reform are mutually exclusive, and that's frustrating, Michael Correia, director of government relations for the National Cannabis Industry Association, told the roundtable. "From a strategic standpoint, you want to have Congress focus on incremental issues like the SAFE Banking Act and tax relief, then spend the next few years dealing with the intricacies of comprehensive reform and cannabis legalization."
"Anyone who deals with this knows reform is incremental, but DPA, Cory Booker, and Schumer feel like SAFE is only about fat cats getting rich, and that comprehensive reform is the only path," Correia continued. "The SAFE Banking Act has overwhelming support -- it's got 100 GOP cosponsors in the House and 42 cosponsors including nine Republicans in the Senate. The problem is not cannabis prohibition but our cannabis friends. This is not about fat cats; this about helping small businesses, minority businesses."
"We have to demand that Congress act on the SAFE Banking Act and work here as if we assume they're not going to do that," said LCB Chair Postman. "The governor today has asked staff to work on what we can do in the absence of SAFE."
"Cannabis retailers are unable to bank and have to rely on cash, and we all recognize that this is a major contributing factor in the violence we are seeing," said state Treasurer Mike Pelliccioti, who added that he had met with fellow state treasurers to lobby them to get behind the issue. "Three out of four states have some form of legalized cannabis, but even treasurers in states that don't are engaged. It is our role to go to Congress and say enough dithering on this issue. Time and again the House has passed this, and it's time for the Senate to act."
Pellicciotti said he was aware of Senate Majority Leader Schumer's position, "but we are at the point where Congress needs to pass this."
He held out hope that the SAFE Banking Act could still pass this year, perhaps after Schumer introduces his broader legalization bill. "The most appropriate path for this to move forward is to tack it onto the America Competes Act, and then, after Schumer introduces his bill, we can move forward with the America Competes Act and make sure SAFE is included in the Senate," he said. "But it's pedal to the metal right now; there's a very narrow window."
State Sen. Karen Keiser (D-Kent) was less sanguine about the SAFE Banking Act advancing this year and more focused on the local public safety aspects of the issue.
"I have to be skeptical that Congress will pass it this year," she said. "But we have to take action, we cannot dither, we cannot wait for Congress or collaboration in the industry because people are being killed."
Keiser is asking the LCB to take immediate administrative actions on an emergency basis to help ameliorate the problem. One tool she suggested was requiring two-door entry, where potential customers have to go through a first door and have identification verified before a second door unlocks and grants them entry into the store. Another was standardized safety training for workers.
Keiser has also authored at least two bills aimed at the issue, one two years ago that would have required law enforcement to report all robberies to the LCB, and one this year that would have added a year to prison sentences for pot shop robbers. Neither passed.
"The sheriffs and police didn't want to deal with the reporting bill, and the stores didn't want to hear about it because it implied it wasn't a safe industry and it was dangerous. Now, we know it's dangerous," she said.
Not everyone wants to lengthen prison terms. A representative of the Oregon Attorney General's office noted that armed robbers can already potentially face life prison terms, and noted that WA Gov. didn't support the bill. [Ed: We are not for lengthening sentences either.]
Nevertheless, what seems increasingly cleasr is that banking for marijuana businesses is not solely about profits. And regulators, elected officials and others at both the state and federal levels now are all pushing for the SAFE Banking Act.