Meth lab busts nationwide were up 27% last year over the previous year, according to the DEA, and state legislatures, prodded by law enforcement, are responding with a new batch of bills to ban pseudoephedrine, a key ingredient in home-cooked meth, but also a key ingredient in widely used cold remedies such as Sudafed and Claritin-B.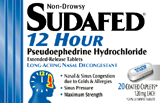 In at least three states -- California, Indiana, Kentucky, and Missouri -- bills to make products containing pseudoephedrine available by prescription only have been or will be filed. Meanwhile, Mississippi this week became the first state this year to pass such a law, and only the second in the nation. Oregon passed such a law in 2006 and saw a dramatic reduction in meth lab busts.
In Mississippi, Gov. Hailey Barbour (R) is poised to sign HB 512, which would make ephedrine and pseudoephedrine Schedule III controlled substances available only by prescription. The measure passed the House 45-4 late last month and passed the Senate 45-4 on Tuesday.
The Tuesday vote came as about 50 uniformed members of Mississippi law enforcement looked on from the gallery. Mississippi law enforcement had been the primary force behind the bill.
As the cops looked on, supporters of the bill fended off amendments to the bill that would allow patients to be charged lower than normal fees when going to a physician to get a prescription. Opponents of the bill had argued that it would place a burden on Mississippi residents who would now be saddled with having to pay for a doctor's visit and a co-pay for their now prescription drug.
"I look forward to signing House Bill 512, which will make it more difficult to obtain the ingredients for this drug that tears families apart and harms many of our communities," Barbour said in a statement.
Barbour and the cops may have been happy, but the Consumer Healthcare Products Association, which represents over-the-counter medicine makers, was not. The bill will be a burden on residents and will raise health care costs in the state, the group said.
"We are disappointed that the Mississippi Senate chose to overlook consumer sentiment and passed a bill today that will significantly impact how cold and allergy sufferers access some of their medicines," said association spokeswoman Linda Suydam. "While well-intentioned, this bill will impose an unnecessary burden on Mississippians, despite there being a better and more effective solution to address the state's meth production problem."
The association said that electronic tracking of over-the-counter medications containing pseudoephedrine was a "more effective, less-costly alternative, and one that eight states have adopted to fight domestic methamphetamine production while maintaining consumer access to these medicines."
Indiana is also moving to restrict pseudoephedrine, but not to make it prescription-only. The state Senate voted 46-4 Tuesday to approve SB 383, which limits customers to 3.6 grams of ephedrine or pseudoephedrine in one day and nine grams of the drugs in one month. That bill now heads to the House.