A New York bill increasing civil penalties for illicit pot shops is signed into law, Oregon regulators approve the nation's first licensee for therapeutic psilocybin services, and more.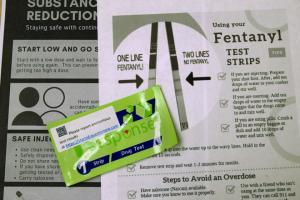 Marijuana Policy
New York Governor Signs Bill to Increase Civil Penalties for Illicit Pot Shops. Gov. Kathy Hochul (D) last Wednesday signed into law Assembly Bill 3281, which increases civil and tax penalties for unlicensed marijuana retailers, including fines of up to $20,000 a day. The move is aimed at reigning in an illicit marijuana market in the state that exploded in the months-long gap between marijuana being legalized and licensed retail sales that only recently began. At this point, there are only a handful of licensed marijuana outlets in the state compared to more than a thousand unlicensed outlets in New York City alone.
"As New York State continues to roll out a nation-leading model to establish its cannabis industry, these critical enforcement measures will protect New Yorkers from illicit, unregulated" Hochul said. "Unlicensed dispensaries violate our laws put public health at risk and undermine the legal cannabis market. With these enforcement tools, we're paving the way for safer products, reinvestment in communities that endured years of disproportionate enforcement, and greater opportunities for New Yorkers."
Medical Marijuana
Florida Lawmakers Approve Bill to Allow Telehealth Renewals for Medical Marijuana, Help Black Farmers Get Grow Licenses. With a final vote in the Senate last Wednesday, the legislature approved House Bill 387. The measure allows doctors to renew approvals for medical marijuana patients via telehealth. New patients will still require an in-patient exam. The measure could also help Black farmers get medical marijuana grow licenses after years of delays. Only one license has been issued to a Black farmer, and this bill could lead to the Department of Health issuing additional licenses to Black farmers.
Psychedelics
Oregon Regulators Approve Nation's First Psilocybin Service Center. The Oregon Health Authority has awarded a license to EPIC Healing in Eugene to provide therapeutic psilocybin services, where people can use the psychedelic in a supervised and facilitated environment. This is a national first and comes after state voters approved therapeutic psilocybin services in 2020. Now, the state has issued at least one license in all four licensing categories -- facilitators, testing labs, psilocybin manufacturing, and therapeutic services.
"This is such a historic moment as psilocybin services will soon become available in Oregon, and we appreciate the strong commitment to client safety and access as service center doors prepare to open," Oregon Psilocybin Services (OPS) Section Manager Angie Allbee said in a press release.
Harm Reduction
Federal Government Provides Grant to Study Safe Injection Sites. New York University and Brown University announced Monday that they had received a four-year, $5 million grant to study whether safe injection sites can prevent drug overdoses, estimate their costs, and weigh potential savings for health care and criminal justice systems. This marks the first time the federal government has paid for such a study. The study will focus on two safe injection sites already operating in New York City and one set to open next year in Rhode Island and hopes to enroll a thousand adult drug users. The grant comes from the National Institute on Drug Abuse (NIDA). Studies from the 14 countries that currently allow safe injection sites have found they radically reduce drug overdose deaths.
"There is a lot of discussion about overdose prevention centers, but ultimately, we need data to see if they are working or not, and what impact they may have on the community," said NIDA director Dr. Nora Volkow.
Florida Lawmakers Pass Bill to Decriminalize Fentanyl Test Strips. The House last Wednesday gave final, unanimous approval to a bill that decriminalizes fentanyl test strips by removing them from the state's list of drug paraphernalia, Senate Bill 164. More than 6,000 Floridians died in drug overdoses implicating fentanyl in 2020. A similar bill failed last year after some critics claimed that legalizing the test strips would incentive drug use.
International
Honduran Police Seize a Million Coca Plants, Rustic Labs. The Honduran National Police announced that a raid last Friday in a protected forest reserve in the eastern part of the country resulted in the seizure of more than one million coca plants, two million seedlings, and "four rustic structures" used to extract alkaloids from the coca leaf and store chemicals used in the process. While coca has traditionally been grown almost exclusively in its native Andean region of South America, Honduran authorities have been encountering small coca plantations on their soil since 2017, but never one approaching this size.