Myanmar may see a rebound in opium production in the wake of the coup and the pandemic, Philippines President Duterte stays true to thuggish form, and more.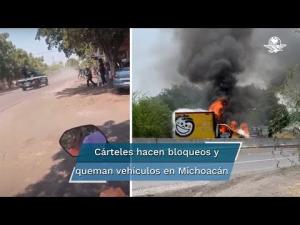 Drug Testing
Alabama Law Increases Use of Saliva Tests to Catch Drug-Impaired Drivers. Governor Kay Ivey (R) has signed into law a bill that will treat saliva tests the same as breath and blood tests, meaning drivers in the state will have given "implied consent" to be tested and will lose their driving privileges for three months if they refuse. Previously, saliva tests did not carry that "implied consent" provision and drivers accused of driving under the influence could refuse them without sanction.
International
Mexico Cartel Violence Flares in Michoacan. After confrontations with National Guard members last week, warring cartels burned vehicles and blocked highways in the Tierra Caliente region of the state of Michoacan. Eleven roads were reported blocked in five municipalities: Apatzingán, Buenavista, Parácuaro, Tepalcatepec and Aguililla. In Aguilla, gunmen from the Jalisco New Generation Cartel burned vehicles to block more security forces from entering, while in Buenavista guardsmen and state police were attacked with sticks and rocks by local residents. Meanwhile, members of the rival United Cartels blocked roads in Apatzingan, Buenavista, and Paracuaro. No word on any casualties.
UN Warns of Likely Bump in Myanmar Opium Production After Pandemic, Coup. The UN Office on Drugs and Crime (UNODC) is warning of a potential rise in opium production because of economic dislocation brought on by the coronavirus pandemic and the February 1 military coup. Myanmar is the world's second largest opium producer, behind Afghanistan. Production had been trending down since 2014, but the twin threats could reverse that: "The opium economy is really a poverty economy; it functions in a sense the opposite of what the licit economy does. As people exit that economy and they need to make money, they are going to be looking at places they can make it, and often people that are in poor areas and poverty-stricken areas look to make money from the opium economy," said Jeremy Douglas, the UNODC's representative for Southeast Asia and the Pacific. "Probably 12 months out, 18 months out, we're going to be looking at an expansion unless past history is wrong. There's a cycle of this happening in the country over its history," he added.
Philippines President Rejects Providing Full Details on Drug Crackdown, Threatens to Kill More Drug Dealers. President Rodrigo Duterte said in a televised speech Monday that he would not open up police records about killings in his bloody anti-drug crackdown, comparing the campaign to the government's war against the communist New People's Army. "This is a national security issue like the NPA," he said. The Supreme Court disagrees, noting in a 2018 resolution that anti-drug operations do not usually "involve state secrets affecting national security" like those dealing with "rebellion, invasion, terrorism, espionage, infringement of our sovereignty or sovereign rights by foreign powers." Duterte also warned drug dealers that: "If I am there, I will really kill you. I don't care if there's TV around. I will really kill you."