There's a drug crackdown going on in India's Punjab, Afghan drug prices are rising despite questions about whether the Taliban ban is actually happening, and more.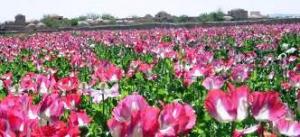 Marijuana Policy
Schumer Says Senate Close to Passing Marijuana Banking, Expungements Bill After Talks with Republicans. Senate Majority Leader Chuck Schumer (D-NY) said Sunday that Congress is "very close" to filing and then passing the SAFE Banking Act + bill, which includes provisions including banking protections for state-legal marijuana businesses and expungements of past marijuana convictions. Schumer cited progress he had made in talks with a "bunch of Republican senators."
Schumer had blocked earlier efforts to pass the SAFE Banking Act, which has passed the House seven times, but now appears ready to move on it as prospects for a broader legalization bill fade. "We are getting very close," Schumer said. "I am working in a bipartisan way with Democrats and Republicans to take the SAFE Banking Act, which allows financial institutions to involve themselves in cannabis companies and lend money to them -- but it also does some things for justice, such as expunging a record. So, expunging the records is important, and we're getting clos We may be able to get something done rather soon. I'm working with a bunch of Republican senators, a bunch of Democratic senators, to get something passed."
Drug Treatment
State Opioid Treatment Program Regulations Put Evidence-Based Care Out of Reach for Many. Opioid treatment programs (OTPs) are the only health care modalities that can offer methadone as well as buprenorphine and extended-release naltrexone to patients. They are the only facilities that can offer methadone, but federal and state rules not based on evidence are curtailing access to high-quality OTP care, the Pew Trust reports in new research.
Among barriers to OTP treatment, Pew found that 20 states require a new OTP to seek state approval baed on demonstrating a need for services before opening, seven states impose restrictive zoning rules on OTPS that don't apply to other health are facilities, 10 states don't allow clients to take medication home in the first 30 days of treatment, 48 states allow OTPs to throw patients out of the program for not being abstinent from opioids or other drugs, and 23 states specify a counseling schedule for patients rather than providing individualized care. Click on the link for methodology and a full data set.
International
Afghan Drug Prices Soared After Taliban Ban, Despite Little Evidence of Enforcement. Illegal drug prices have skyrocketed in Afghanistan since the Taliban banned the drug trade in April, even though there is only limited evidence that the militants are enforcing the ban. Opium prices have increased more than 50 percent, while methamphetamine prices have also risen, according to countrywide data gathered by the private, UK-based satellite imagery company Alcis. While analysts said the ban is not yet widely enforced, prices are rising based on fears of a future crackdown. A new opium poppy planting season is about to get underway, and it is unclear to what degree local Taliban commanders intend to or even can enforce a ban on poppy production. Satellite data, though, has shown a crackdown on ephedra (used to manufacture meth) markets and meth labs already underway.
But any crackdown would come in the face of a massive nationwide economic crisis that could drive people away from supporting the Taliban. "The things that people used to survive on in the face of a drugs ban -- in terms of joining the [army], working in the cities in construction -- those options are gone," David Mansfield, a researcher on the report and expert on Afghanistan's drugs trade, said. "Do local Taliban... press on this and risk increasing a humanitarian crisis, alienating a population, or do they let it ride because of the fear of resistance?"
India's Punjab Police in Massive Drug Crackdown. Police in the Punjab have arrested 6,997 drug smugglers since July and registered 5,436 FIRs (first information reports -- the initial report of a possible criminal offense), of which 580 are for possessing large quantities of drugs. The crackdown is part of Punjab Chief Minister Bhagwant Mann's "war against the drug menace plaguing the state."
Between roadblocks and other searches, police have seized nearly 260 kilograms of heroin, as well as an additional 147.5 kilograms seized at the ports of Gujarat and Maharashtra. They also seized 300 kilograms of raw heroin, 197 kilograms of marijuana and nearly three million pills, capsules, and vials of pharmaceutical opioids. State police chief Gaurav Yadav has called on police to investigate all leads in every case no matter how small and to aggressively seize the assets of drug suspects.