One of the world's most prestigious medical journals comes out for drug legalization, an Ohio legalization initiative aimed at 2019 gets initial approval, Quebec will take a look at festival pill testing, and more.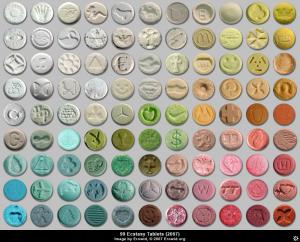 Marijuana Policy
New Jersey Has Final Public Hearing on Marijuana Legalization Saturday. A meeting tomorrow in Paramus will be the last chance for members of the public to get their opinions on marijuana legalization heard by legislators. The Assembly Oversight, Reform, and Federal Relations Committee will take testimony from invited speakers and the public on the impact at the meeting at Bergen Community College at 10:00am.
Ohio Attorney General Okays Legalization Initiative. State Attorney General Mike DeWine (R) has certified a marijuana legalization as being "fair and truthful," the first step in putting the measure before voters. The Marijuana Rights and Regulations Act now goes to the Ohio Ballot Board, which will determine if it constitutes one or multiple ballot questions. If approved by the board, campaigners would then have to gather nearly 306,000 valid voter signatures to qualify for the ballot. But because the deadline for signatures for initiatives appearing on the 2018 ballot is July, campaigners are instead aiming for the 2019 ballot.
Medical Marijuana
Michigan to Now Regulate CBD Oil as Marijuana. State regulators announced Thursday that CBD cannabis oil products will be covered by the state's medical marijuana laws. The Department of Licensing and Regulatory Affairs declared that state law allows for the use of CBD cannabis oil -- if it comes from marijuana plants, not hemp plants. "We received lots of questions about if CBD was going to be regulated along with marijuana and how hemp plays into that," said department spokesman David Harns. "Now is the right time to send out an advisory bulletin."
Heroin and Prescription Opioids
Minnesota Senate Approves Bill to Fund Opioid Treatment With Drug Company Fees. The Senate voted 60-6 Thursday to approve Senate File 730, which would raise $20 million a year from licensing fees on drug distributors and manufacturers to fund opioid treatment. A companion measure in the House awaits a final committee vote before heading to the House floor.
International
British Medical Journal Calls for Drug Legalization. The BMJ, one of the world's most prestigious medical journals, on Thursday published an editorial calling for illegal drugs to be legalized, taxed, and regulated. The editorial cited a BMJ opinion piece by Law Enforcement Action Partnership (LEAP) UK members, as well as the recent call by the Royal Academy of Physicians for drug decriminalization. "This is not about whether you think drugs are good or bad. It is an evidence based position entirely in line with the public health approach to violent crime… The BMJ is firmly behind efforts to legalize, regulate, and tax the sale of drugs for recreational and medicinal use. This is an issue on which doctors can and should make their voices heard."
Canada's Quebec Authorizes Research into Allowing Festival Pill Testing. The Quebec Health Ministry has announced that it has authorized a $100,000 study to examine the potential outcomes of allowing people to have their drugs tested at festivals, night clubs, and LBGT venues. The study will end in 2020 and then make recommendations to the provincial government about going ahead with a pilot pill testing program. The practice is currently illegal under Canadian law unless the federal government grants an exemption.