The marijuana court judge was drunk, Dread Pirate Roberts wants his bitcoins back, Beto O'Rourke wants the Border Patrol to answer some questions, Rand Paul and Cory Booker tweet policy, and more. Let's get to it: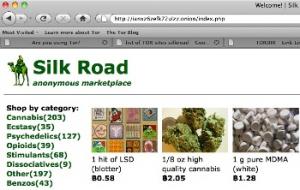 Marijuana Policy
Florida "Marijuana Court" Judge Comes to Work Drunk. Florida Judge Gisele Pollack, who pioneered the notion of a "marijuana court," where misdemeanor pot offenders are steered toward treatment, showed up at work last Tuesday drunk out of her mind. When court staff tried to keep her off the bench, she responded, "Fuck you, you're fired." She was also reportedly screaming and crying as she demanded that her car keys be returned to her. She later told reporters she would be off for two weeks in "an intense outpatient program."
Medical Marijuana
Florida Signature-Gatherers Held Day of Action Saturday. Organizers for the campaign to put a medical marijuana initiative on the Florida ballot held a "Day of Action" Saturday as their effort heads into its final weeks. Supporters set up locations in 14 cities, including Daytona Beach and Orlando, where volunteers picked up and dropped off petitions. They need 700,000 to make the ballot, but are seeking to gather one million to have a cushion.
Asset Forfeiture
Silk Road's Dread Pirate Roberts Wants His Bitcoins Back. Ross Ulbricht, also known online as the Dread Pirate Roberts, is asking the federal government to return more than $30 million worth of bitcoins it seized after it shut down his Silk Road web site for allowing visitors to buy and sell illegal drugs and other contraband. Ulbricht argues in a legal filing that the currency should be returned because it isn't subject to civil forfeiture rules.
Law Enforcement
Beto O'Rourke Calls for Investigation into Heavy-Handed Border Drug Searches. US Rep. Beto O'Rourke (D-TX) is calling for an investigation into border drug search practices after, in the latest border search scandal, a New Mexico woman is suing after having been subjected to body cavity searches, including anal and vaginal probes while crossing into El Paso from Mexico. "Recent allegations brought against CBP for extreme and illegal searches are deeply troubling and, if true, completely unacceptable," O'Rourke said. "Individuals do not waive their constitutional or human rights simply because they choose to cross one of our international bridges. The war on drugs cannot be an excuse for sexual assault under the color of legal authority. Constitutional limits exist so that the rights of our citizens are protected and the government does not deprive any person of life, liberty, or property, without due process of law," O'Rourke said. "CBP has a responsibility to ensure that all persons entering into our country are treated humanely and in accordance with our laws."
Sentencing Reform
Paul-Booker Tweet Fest Could Be Harbinger of Reform Alliance Next Year. Sens. Rand Paul (R-KY) and Cory Booker (D-NJ) engaged in a Twitter exchange today that could augur cooperation on moving forward with sentencing reform and marijuana and hemp legalization next year. Both are among the highest-profile senators seeking sentencing reform. Read the exchange at the link.
International
A Thousand Rally for Marijuana Legalization in Tel Aviv. More than a thousand people rallied in Tel Aviv's Rabin Square Saturday night in favor of marijuana legalization and easing restrictions on medical marijuana. Likud lawmaker Moshe Feiglin and Meretz lawmaker Tamar Zandberg have proposed a bill that would legalize marijuana and ease access to it for medical use.
Costa Rica Presidential Candidates Not Keen On Marijuana Legalization. Costa Rica's two leading presidential candidates have said they do not support the full legalization of marijuana in Costa Rica. Proponents of medical marijuana, however, might glean some hope from the candidates' responses. Front-runners Johnny Araya of the National Liberation Party and Jose Maria Villalta of the Broad Front are lukewarm at best on marijuana reform. Araya said "I'm against legalizing marijuana in Costa Rica," while Villalta, while not endorsing legalization, at least called for "a broad national dialogue" on the issue.