A pair of senators demand that Jeff Sessions quit blocking marijuana research, Mitch McConnell files a federal hemp bill, Mexico's tourism minister says his country should allow states to legalize weed, and more.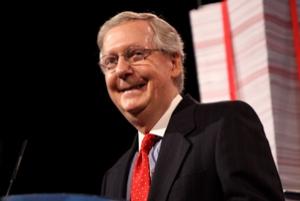 Medical Marijuana
Bipartisan Pair of Senators Call on Sessions to Stop Blocking Marijuana Research. Sens. Kamala Harris (D-CA) and Orrin Hatch (R-UT) sent a letter Thursday to Attorney General Jeff Sessions to demand that he stop blocking efforts to ramp up research on marijuana's medical benefits. "The benefits of research are unquestionable," Sens. Orrin Hatch (R-UT) and Kamala Harris (D-CA) wrote, taking Sessions to task for blocking applications for new research grows. "Nineteen months have elapsed since the DEA announced its request for expanded marijuana research," they noted, demanding that Sessions respond by May 15 about the status of the research application reviews.
Louisiana House Approves Expansion of Medical Marijuana Program. The House on Thursday approved House Bill 579, which expands the list of qualifying conditions to include Parkinson's Disease, chronic pain, severe muscle spasms, and PTSD. That means the number of qualifying conditions would rise from 10 to 14. The bill now goes to the Senate.
Hemp
Mitch McConnell Files Federal Hemp Bill. Senate Majority Leader Mitch McConnell (R-KY) has filed Senate Bill 2667, which aims to allow for domestic hemp production by removing non-psychoactive marijuana varieties known as hemp from the Controlled Substance Act. Cosponsoring the bill are Sens. Ron Wyden (D-OR) and Jeff Merkley (D-OR). Companion legislation in the House was filed by McConnell's home state homeboy Rep. Jim Comer (R-KY).
Heroin and Prescription Opioids
Making Opioids Tougher to Abuse Led to Spike in Heroin Deaths, Study Finds. A new working paper from the National Bureau of Economic Research finds that a 2010 effort to deter opioid abuse led to a jump in heroin overdoses. The paper studied what happened after OxyContin was reformulated to be more abuse-resistant and found that "each prevented opioid death was replaced with a heroin death."
Law Enforcement
DEA Gouged Taxpayers, Benefited Ex-Employees, Audit Finds. A report from the Justice Department's Office of the Inspector General has found that the DEA's Asset Forfeiture Program farmed out contracts to recently retired former employees, paying them more than half a million dollars more than they would have been paid if they had remained at the agency. The former employees worked for a private contractor called Maximus Inc., which was paid $85 million between 2013 and 2017 to handle asset forfeiture cases. Many of the ex-employees went to the same offices they had worked at as DEA employees, and former DEA employees accounted for 40% of Maximus's asset forfeiture workforce.
International
Mexico Tourism Minister Says Country Should Let States Begin to Legalize Weed. Tourism Minister Enrique de la Madrid said Wednesday that Mexico should allow states to begin legalizing marijuana, in part to address record cartel violence. "I think in Mexico we should move towards regulating it at state level," he said, calling it "illogical" to divert funds from fighting kidnapping, rape and murder to arrest people using marijuana.