A poll of Brazilian adults conducted by the newspaper Folha de Sao Paulo found that a whopping 79% think marijuana smoking should remain a crime. Only 18% favored legalizing the use of marijuana.
Marijuana, known locally as "maconha," is grown in the Brazilian northeast, as well as being imported from Paraguayan pot plantations. The drug is widely consumed in Brazil, with the United Nations Office on Drugs and Crime estimating that roughly two million Brazilians smoked marijuana at least once in the last year.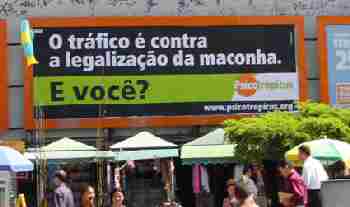 There have been calls for liberalization of the country's marijuana laws, not only in annual marijuana marches, but also from some of the country's leading politicians. Last year, Culture Minister (and musician extraordinaire) Gilberto Gil went public with his marijuana use, saying he had smoked it for years. "I believe that drugs should be treated like pharmaceuticals, legalized, although under the same regulations and monitoring as medicines," he said at the time.
But it appears Brazilians are in a conservative mood these days. The poll asked respondents to identify themselves politically and found 47% saying rightist, 23% saying centrist, and 30% saying leftist. The conservative trend was even stronger on criminal justice and moral issues, with 63% opposing abortion, 84% supporting lowering the age at which juveniles can be charged as adults, and 51% supporting the death penalty.
Brazilian observers blamed too much influence from the United States. Former national anti-drug secretary Walter Maierovitch told Folha the results show "a lack of generalized information" among the population. "Brazilians are ill-informed on these polemical matters and generally align themselves with positions that emanate from the United States, where these discussions are more profound and conservative," he told the Folha.
American political scientist David Fleischer, a professor at the University of Brasilia, agreed. "The television is the great source of information for Brazilians," he said. "Cultural imperialism and North American customs, which have become more conservative in the past 20 years, are very relevant."
(Brazilians who want to help change things should join Psicotropicus.)