In March 2005, police in Flint, Michigan, burst into Club What's Next late one Friday night after witnessing a few instances of drug sales in or near the club and marijuana smoking inside the club, which was holding a rave party. Although police found drugs or paraphernalia on only 23 people (despite strip searches and body cavity searches), they arrested all 117 persons present at the scene. The remaining 94 people were charged with "frequenting a drug house," a misdemeanor offense.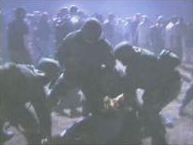 Last Friday, a Genesee Circuit Court judge threw out those arrests, holding that Flint police had violated the constitutional rights of the club-goers. In his
decision
, Judge Joseph Farah held that police lacked probable cause to arrest people merely for being in the club.
"The District Court erred in finding probable cause to arrest these defendants," Farah wrote in his decision. "To allow to stand the arrests of these 94 defendants would be to allow lumping together people who had been at the club for five minutes or five hours, people who never stopped dancing with those who sat next to a drug deal, people who sat at a table facing the wall with those in the middle of the mischief, and charge those dissimilarly present individuals with equal awareness and knowledge of wrongdoing."
The ACLU of Michigan, which represented the 94 people arrested for being present, greeted the decision with pleasure. "The ordinance under which the arrests were made is in place to protect Flint citizens from actual drug houses. It was never intended to be randomly deployed by the police against law-abiding citizens who go out to clubs to hear music and socialize," said Michigan ACLU executive director Kary Moss in a statement issued the same day. "Judge Joseph Farah's decision vindicates the constitutional rights of our clients and sends a strong message to police departments across the country."
"Judge Farah's opinion correctly concludes that the police had no business arresting any of them," said Ken Mogill, cooperating attorney for the ACLU of Michigan who argued the case with Elizabeth Jacobs. "This is a gratifying victory for each of those law-abiding, wrongly arrested individuals and for the rule of law in our community."