Hemp is hopping in the heartland, the effort to undo Florida's ban on smokable medical marijuana advances, New York City ponders barring pre-employment drug tests for marijuana, and more.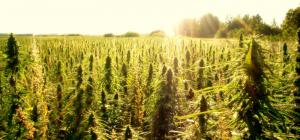 Marijuana Policy
New York City Bill Would Ban Pre-Employment Marijuana Drug Testing. Councilman Jumaane Williams filed a bill Wednesday that would bar employers from testing job applicants for marijuana as a condition of employment. The bill is part of a broader package of marijuana reform legislation before the city council. "As we're jettisoning toward legalization, it doesn't make sense that this would be something that would prevent someone from getting gainful employment," Williams said. "If you ingest weed in whatever manner a month ago, I'm not sure how that prevents you from doing your job now," he added.
Medical Marijuana
Florida Legislature Advances Plan to Allow Smokable Medical Marijuana. Committees in both the House and the Senate approved bills that would allow patients to smoke their marijuana, although the House plan would limit it to pre-rolled joints with filters. A less restrictive Senate bill to allow smoking, SB 182, passed out of the Innovation, Industry, and Technology Committee Tuesday. Movement on the bills suggests lawmakers could pass the legislation before a March 15 deadline set by Gov. Ron DeSantis (R).
Kentucky Senate Sees Medical Marijuana Bill Filed. State Sen. Stephen West (R-Paris) has filed SB 170 to legalize medical marijuana in the state. Companion legislation, HB 136, was introduced last month.
Hemp
Mississippi Hemp Bill Advances. An effort to legalize industrial hemp cultivation in the state got a big boost Tuesday when Rep. Dana Criswell (R-Olive Branch successfully offered an amendment to bill modifying the state's drug schedules, HB 1547, to include allowing hemp cultivation. The bill now heads for a House floor vote.
Nebraska Moving to Legalize Hemp Production. Lawmakers and state agency officials are working together to craft an industrial hemp bill. A hearing was held Tuesday on LB 657, which solons and farmers touted as a means of helping diversifying crops. The Agriculture Department testified that it supported legalizing hemp production but was concerned about proper regulations.
Harm Reduction
New Jersey to Expand Needle Exchange Programs. State Department of Health Commissioner Dr. Shereef Elnahal said this week that the state will enhance services at seven existing needle exchange programs and open new ones in the months to come. The plan is part of a broader effort to address opioid addiction and its side effects.