The DEA continued with its futile pursuit of marijuana eradication last year, a former Amazon worker wins a victory in a court battle over being fired for medical marijuana use, and more.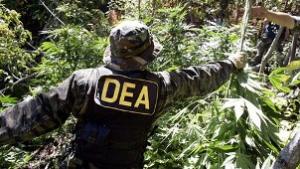 Marijuana Policy
DEA Seized More Pot Plants Last Year but Arrested Fewer People for Growing. According to a new annual report from the DEA, the agency seized more than four million plants last year, a more than 40% increase over 2018. But the number of indoor grows raided actually decreased by about 10%, suggesting that the DEA was raiding bigger grows rather than expanding enforcement efforts. And most of the seized plants -- 3.1 million of them -- came from California, where the agency seized only 1.8 million in 2018. And related arrests declined by 15%, from 5,600 in 2018 to 4,700 last year.
Medical Marijuana
Worker Fired by Amazon for Medical Marijuana Wins Key Decision in Federal Court. A former Amazon warehouse worker who sued in New Jersey state court after being fired for using medical marijuana has won a preliminary victory. Amazon had responded to the lawsuit by moving to have the case heard in federal court, where the worker had little chance of winning since marijuana remains prohibited under federal law. But late last week, the federal court allowed the worker's request to remand the case back to state Superior Court.
Ohio Okays Curbside Pickup for Medical Marijuana Sales. The state has determined that medical marijuana dispensaries are "essential" businesses during the coronavirus crisis and are being allowed to sell their products via curbside pickup. The stat Board of Pharmacy approved a temporary guideline to allow the practice last week. While a Cleveland-area dispensary is the first to implement curbside service, all dispensaries in the state have been cleared to do so as well.