It's another one of those all-marijuana news days -- the California initiative hits the ground running, New Hampshire legalization bills get filed, Canadian MPs get a pot package, and more.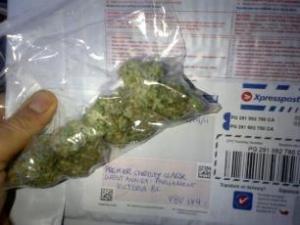 Marijuana Policy
California Adult Use of Marijuana Act Initiative Can Start Signature Gathering. The AUMA is now the most viable shot at legalizing weed in California this year. It has the backing of tech billionaire Sean Parker, as well other marijuana mavens and reform movement donors. It needs 365,000 valid voter signatures by June to make the November ballot.
Contributions Start Coming in for California's AUMA Legalization Initiative. The AUMA has picked up $1.25 million in donations, including $250,000 from the Marijuana Policy Project, a matching $250,000 from Sean Parker, $250,000 from the New Approach PAC, $250,000 from Drug Policy Action (the lobbying and campaign arm of the Drug Policy Alliance), and $250,000 from the Californians for Sensible Reform committee (Weedmaps). That should cover the cost of signature gathering for the initiative.
Nebraska, Oklahoma Accuse Colorado of Acting Like Drug Cartel. Attorneys for the two states urged the US Supreme Court to let them sue their neighbor over its legal marijuana production and distribution system, accusing Colorado of creating "a massive criminal enterprise whose sole purpose is to authorize and facilitate the manufacture, distribution, sale and use of marijuana… "If this entity were based south of our border, the federal government would prosecute it as a drug cartel." The Obama administration has urged the high court to refuse to hear the case.
Trio of New Hampshire Legalization Bills Filed. Granite State lawmakers have filed not one, not two, but three bills to legalize marijuana. House Bill 1675 would legalize possession of up to 2.2 pounds of marijuana for personal consumption by adults 18 and older, and would also legalize cultivation of up to six pot plants at home. It was also allow the sale and taxation of marijuana. House Bill 1610 would legalize marijuana possession of up to two ounces for personal use by adults 21 and older, and would legalize cultivation of up to six plants at home -- limited to three mature plants at any one time. It would not allow retail sales, but would allow adults to gift up to an ounce to other adults. House Bill 1694 would legalize marijuana possession of up to one ounce by adults 21 and older, and would permit home cultivation of up to six pot plants, with a limit of three mature plants at one time. The bill would allow the sale and taxation of marijuana.
Vermont Governor Calls for Legalizing Marijuana in State of the State Address. Vermont Governor Peter Shumlin called on lawmakers to pass legislation legalizing and regulating marijuana in his final State of the State address today. He also declared the drug war a failure and expressed desire to continue emphasizing a health-based approach to drug policy by expanding treatment and overdose prevention programs, as well as by removing the stigma associated with drug use and addiction. With Shumlin entering his last year in office, this is a strong signal that he intends to make marijuana legalization a priority in the upcoming legislative session. "The outdated war on drugs has also failed," said Shumlin, "and there is no greater example than our nation's marijuana laws." Earlier this week, top legislative leaders downplayed the likelihood of legalization this year.
Drug Policy
Legalization Advocate Gary Johnson Announced Libertarian Presidential Bid. The former Republican New Mexico governor, who championed a discussion of drug legalization while in office, announced Wednesday that he is seeking the Libertarian Party presidential nomination. He resigned from his position as president and CEO of Cannabis Sativa Inc. to do so.
Medical Marijuana
First New York Dispensaries Opened Today. Eight dispensaries opened in the state today, a slow start to a medical marijuana program in a state with nearly 20 million people. The state has authorized another 12 to open later this month.
International
DRCNet Foundation takes no positions on candidates for public office, in compliance with section 501(c)(3) of the Internal Revenue Code, and does not pay for reporting that could be interpreted or misinterpreted as doing so.)