A Rhode Island legislative commission studying marijuana legalization gets an expanded membership, including more seats favorable to legalization, cartel infighting leaves a bloody toll in Reynosa, British public health experts call for festival pill testing, and more.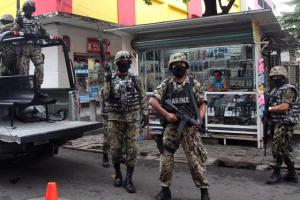 Marijuana Policy
Rhode Island Legalization Commission Gets Expanded. The House Judiciary Committee has voted to expand the membership of a commission studying legalization by adding five more people. The five new members will add heft to the commission's pro-legalization contingent. They include the head of the local NAACP branch, a representative of Doctors for Cannabis Regulation, a criminal defense attorney, and the director of the local chapter of Direct Action for Rights and Equality. This brings the size of the commission to 22. The panel would report recommendations on legalizing marijuana to the General Assembly by March 2018.
Drug Policy
Wisconsin Seeks to Keep Locking Up Pregnant Women Suspected of Drug Use Despite Court Ruling. The state Department of Justice has asked the 10th US Circuit of Appeals to let it continue to apply a law allowing it to detain pregnant women it suspects of drug use even though a US district court judge struck it down in April. State officials first sought an emergency stay to block the ruling while they appeal, but when that was denied Monday, on Tuesday they asked to continue to apply the law to pending cases while it appeals the denial to the US Supreme Court.
International
British Public Health Group Calls for Pill Testing at Festivals. Citing the danger of "serious health harm" from stronger ecstasy in the UK, the Royal Society for Public Health is calling for a program to allow festival goers to test their drugs on site. The society reported than a one-off pill testing pilot program last year resulted in 18% of people bringing their drugs in deciding to through them in the garbage after they turned out to be counterfeit or adulterated.
Mexico Drug War Violence Continues to Roil Reynosa. At least 50 people have been killed in the past month in the Mexican border town of Reynosa, just across the Rio Grande River from McAllen, Texas, according to unofficial counts in local media. Most of the dead are reportedly gunmen from rival factions of the Gulf Cartel, who are fighting for control of local drug trafficking routes, but at least one civilizan -- a taco cart vendor -- is among the dead.