A bipartisan bill aims to lay the groundwork for federal marijuana legalization, Oregon naloxone access bills are moving, and more.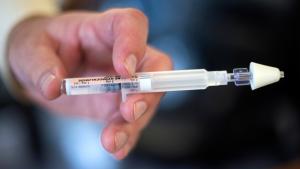 Marijuana Policy
Bipartisan Bill to Prepare for Federal Marijuana Legalization Filed. House Minority Leader Hakeem Jeffries (D-NY) and Rep. Dave Joyce (R-OH) filed a bill to lay the groundwork for federal marijuana legalization Thursday. The Preparing Regulators Effectively for a Post-Prohibition Adult-Use Regulated Environment Act (PREPARE) Act would not legalize marijuana but would direct the attorney general to create a commission charged with making recommendations on a regulatory system for cannabis that models what's currently in place for alcohol. While passage of marijuana legalization appears unlikely in this Congress, but some members think this more incremental measure may be able to pass.
Psychedelics
Arizona Psychedelic Research Bill Stalled in Committee. A bill that would lead the way to the first state-sponsored controlled clinical trials of psilocybin mushrooms, House Bill 2486, is currently stalled in the House Appropriations Committee. The bill's fate depends on ongoing budget negotiations for the next fiscal year. The bill would award up to $30 million in competitive research grants through 2026 for Phase I, II, and III clinical trials using whole mushrooms. The Food and Drug Administration approved synthetic psilocybin as a breakthrough therapy in 2019 but has yet to approve any treatments with whole mushroom psilocybin.
Foreign Policy
US, Mexico Issue Joint Statement on Bicentennial Framework for Security, Public Health, and Safe Communities. With fentanyl and arms trafficking across the border on their minds, delegations of US and Mexican officials met and issued a joint statement Thursday on "new collaborative efforts to counter fentanyl trafficking and consumption and combat arms trafficking across North America." Both countries "committed to continue joint work to dismantle the fentanyl supply chain and the Sinaloa Cartel and the Jalisco New Generation Cartel on both sides of the border," the statement said, while Mexico highlighted "an April 12 presidential decree that permits the creation of a presidential commission to fight the trafficking of illicit synthetic drugs, firearms, and ammunition." Officials from both countries "committed to increase cooperation to combat illegal firearms trafficking," with the US vowing "to target southbound firearms flows and working with Mexican counterparts to increase firearms tracing to identify and choke off the source of firearms flows into Mexico."
Harm Reduction
Oregon Senate Approves Bill to Fight Opioid Overdoses. The Senate on Thursday approved Senate Bill 1043, which would provide patients with a history of using opioids increased access to overdose reversal medications such as naloxone. Backed by Gov. Tina Kotek (D), the bill would mandate that hospitals and other care providers provide two doses of the medication when patients check out if those patients have a history of opioid use or a prescription to an opioid. The bill passed the Senate unanimously. It now goes to the House. A separate proposal, House Bill 2395, would make naloxone kits more widely available in different settings, including public buildings, schools and for first responders. It has already passed the House and is now before the Senate.