Mexican authorities have recaptured the fugitive head of the Sinaloa Cartel, Maine's Tea Party governor goes racial on drugs, while other New England states move toward drug reforms, and more.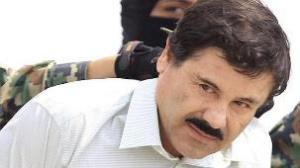 Medical Marijuana
Missouri Medical Marijuana Initiative Approved for Signature Gathering. An initiative from New Approach Missouri has been approved for circulation by the secretary of state's office. The group is seeking 250,000 raw signatures to ensure it meets the requirement of 160,000 valid voter signatures to qualify for the ballot. The campaign estimates it will cost $800,000 for paid signature gathering and is trying to raise funds now.
Asset Forfeiture
New Hampshire House Passes Asset Forfeiture Reform. The GOP-controlled House Thursday approved a bill that would divert money garnered through civil asset forfeiture away from law enforcement and into the state's general fund. The bill would also require a criminal conviction before seized property can be permanently forfeited and it would provide protections for "innocent owners." The bill is House Bill 636. It now goes to the Senate.
Drug Policy
Maine Governor Says Black Out-of-State Drug Dealers Are "Impregnating Young White Girls." During a town hall meeting on Wednesday night, Gov. Paul LePage (R) was asked about how he was tackling substance abuse in Maine. What was his response? "These are guys with the name D-Money, Smoothie, Shifty -- these types of guys -- they come from Connecticut and New York, they come up here, they sell their heroin, they go back home." He then elaborated: "Incidentally, half the time they impregnate a young white girl before they leave, which is a real sad thing because then we have another issue we have to deal with down the road." He is catching lots of flak for his comments.
Massachusetts House Votes to Repeal Mandatory Driver's License Suspension for Drug Offenders. The House voted Thursday to repeal a state law mandating automatic driver's license suspensions for people convicted of drug offenses -- whether they were driving or not. About 7,000 people have their licenses suspended for drug offenses each year, imposing significant barriers to social reentry for drug offenders. "This vote shines a bright light on our state's evolving understanding of drug policy, and emphasizes our ongoing need to advance an approach to criminal justice and drug law reform that prioritizes treatment and rehabilitation over harmful punitive measures that impede Massachusetts residents from successfully reentering and re-engaging their communities," said Rep. Tom Sannicandro, Chair of the Harm Reduction and Drug Law Caucus. The bill now goes to the Senate.
International
El Chapo Captured! Mexican President Enrique Pena Nieto announced on his Twitter feed this morning that Joaquin "El Chapo" Guzman, fugitive head of the Sinaloa Cartel had been recaptured in his home state of Sinaloa. He had escaped from a Mexican federal prison last July. That was his second prison break. He also escaped from a Mexican federal prison in 2001 and eluded capture for more than a decade. Not this time. Guzman heads what is arguably the most powerful drug trafficking organization in the world.