Progressive voters in battleground Ohio will have one more reason to head to the polls next month. Not only do they have a chance to put a Democrat in the governor's mansion and reelect US Senator Sherrod Brown, but they also will have the opportunity to enact a dramatic sentencing reform that will keep thousands of non-violent drug offenders out of prison and help inmates currently serving time for drug possession get back into their communities sooner.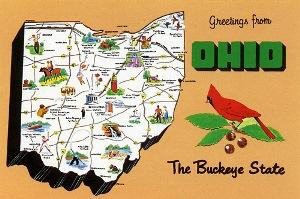 Issue 1
, the smartly named Neighborhood Safety, Drug Treatment, and Rehabilitation Amendment, would:
Reclassify drug possession offenses as misdemeanor crimes, except for drug possession or trafficking offenses currently categorized as first-, second- or third-degree felonies;
Prohibit jail sentences for drug possession until an individual's third offense within 24 months;
Allow inmates convicted of nonviolent crimes to reduce their sentences up to 25 percent for completing rehabilitative, work or educational programming;
Apply cost savings from reduced prison expenses to drug treatment programs and crime victim services.
That's right, passage of Issue 1 would effectively defelonize drug possession in the Buckeye State. At least 16 states have already taken similar steps to ratchet down the drug war, including California, New York, and neighboring Pennsylvania. And now, thanks to local grassroots organizing backed by some big outside money, Ohio could be next.
It could use the help. The state's prison population has hovered around 50,000 for nearly two decades after rising dramatically during the height of drug war repression in the 1980s and 1990s, and nearly a quarter of inmates are doing time for drug offenses. Unsurprisingly, Ohio suffers the same sort of racial disparities as the rest of the country, with blacks more than five times as likely to be imprisoned as whites, and Latinos nearly twice as likely. The state's resort to mass incarceration costs it around $2 billion a year in corrections costs.
The initiative is the brainchild of the Ohio Organizing Collaborative, a coalition of 20 community organizations, faith institutions, labor unions, and policy groups across the state, and its Ohio Safe and Healthy Communities campaign. Its aim is to reduce mass incarceration and racial disparities in the criminal justice system and increase access to drug treatment. Issue 1 would "invest in proven treatment for addiction instead of more spending on bloated prisons," explained campaign manager Amanda Hoyt.
While the initiative is homegrown, the funding for it is coming mainly from out-of-staters. Facebook founder Mark Zuckerberg's Chan Zuckerberg Initiative has kicked in $1 million, and Facebook co-founder Dustin Moskovitz's Open Philanthropy Project ponied up another $1 million. George Soros's Open Society Policy Center provided $1.5 million, while California businessman Nicholas Pritzker and his wife Susan added another $60,000. Of the $4.8 million raised by the campaign, all but $19,000 came from out of state.
"Relying on incarceration to solve addiction and the conditions that drive lower-level crimes actually doesn't make communities safer, and it results in huge expenses to taxpayers with devastating impact to individuals, families, and entire communities," said Ana Zamora, criminal justice manager at the Chan Zuckerberg Initiative, in a statement.
Issue 1 will "put taxpayer dollars to better use by reducing reliance on prisons to address certain nonviolent offenses, including drug use and possession," Zamora added.
The opposition to Issue 1 isn't nearly as deep-pocketed, but it represents much of the state's criminal justice and Republican political establishment. No opposition political action committees have reported donations, but groups such as the Ohio Prosecuting Attorneys Association, the Ohio Common Pleas Judges' Association, the Association of Municipal and County Court Judges of Ohio, the Buckeye State Sheriff's Association, and the Ohio Association of Chiefs of Police have all come out against Issue 1.
And while Democratic gubernatorial candidate Richard Cordray has endorsed Issue 1, current Republican Gov. John Kasich, GOP gubernatorial candidate Mike DeWine, all the Republicans running for statewide office, and the state Republican Party itself have all announced their opposition.
"Unfortunately, Issue 1 is a one-sided proposal that will weaken the tools available to our elected representatives, county prosecutors, and judges to make and enforce laws. It will eliminate important incentives to encourage drug treatment for the addicted, and allow the drug dealers who prey on addiction to freely roam the streets," said former secretary of state Ken Blackwell in rhetoric typical of the opposition.
Other opponents resorted to hyperbolic "sends the wrong message" arguments. "The message to children is that these drugs are not dangerous; the message to drug dealers is that doing business in Ohio is low-risk," warned Louis Tobin, executive director of the prosecutors' association, and Paul Pfeifer, executive director of the Ohio Judicial Conference, in their official argument.
It must be noted that Issue 1 defelonizes only drug possession -- not drug distribution.
There has been no polling to determine what kind of support the measure has, at least none announced publicly. Will an energized Democratic base carry the day for Democrats and Issue 1 in a closely divided state on Election Day? That remains to be seen, but all those millions in campaign funds should help buy plenty of TV ads and influence voters in these final weeks. Stay tuned.